An exchange between society and academia
The transfer of new knowledge and insight from academia to society is a form of interactive exchange between science and the public. Researchers seek out these exchange opportunities: they approach the public, show them what they are working on, and explain how their research can benefit society. We at Rhine-Waal University of Applied Sciences find it very important to incorporate society into our research and other activities.
This approach gives researchers the valuable opportunity to view their research through different eyes. This can not only lead to new ideas, but also provides a forum for discussing important ethical and social consequences, or the question of social acceptance of the research, with the public. Knowledge transfer is a mutually beneficial process and, at the same time, an opportunity for mutual learning.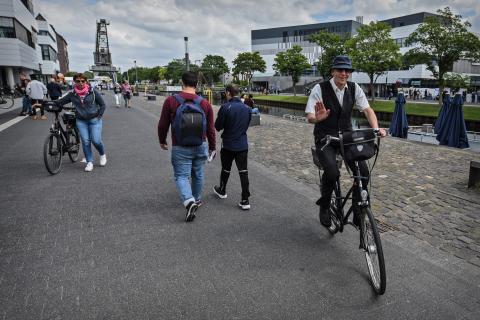 Exchange opportunities with Rhine-Waal University
Rhine-Waal University of Applied Sciences continuously offers knowledge transfer opportunities with its researchers in various formats and at various times throughout the year. Examples include lecture series and discussion events, cooperative agreements, theme days and our annual Open Campus Day.
Below you will find some of our permanent events. For an overview of all formats, see the brochure in the Download section of this page:
Lecture series:
All-day or multi-day events:
Events for specific groups:
HSRW also offers these events for the public as well: