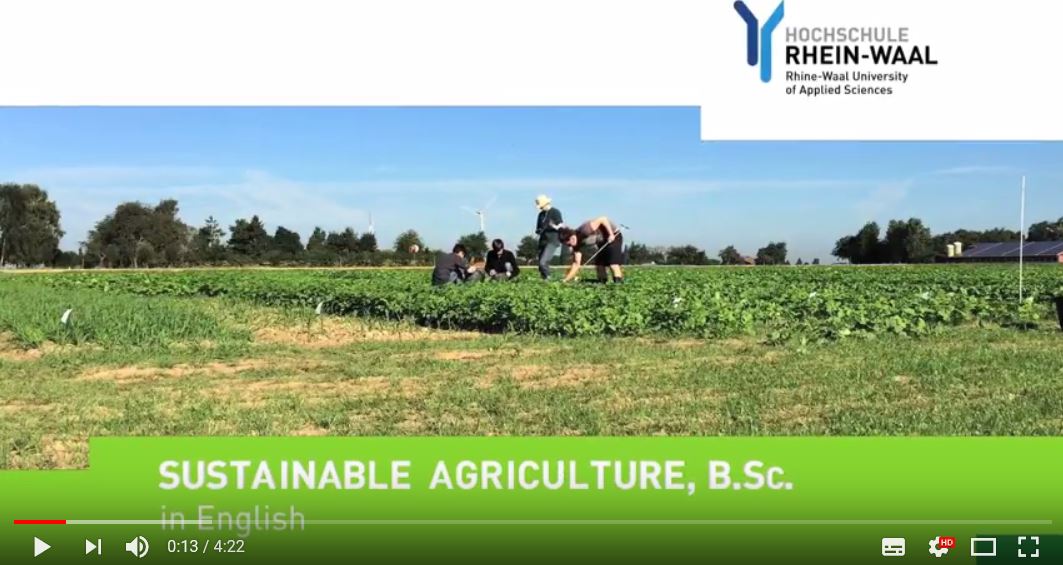 Help shape the future of agriculture
How can conventional agriculture make the transition to a more sustainable form? This is the question at the heart of Sustainable Agriculture B.Sc. It focuses on designing agricultural and horticultural production systems with ecology in mind by engaging in detailed analyses of these systems and developing of appropriate strategies for optimising their efficiency and sustainability. This international degree programme also examines the effect of the agricultural industry on the ecological, economic and social aspects of sustainability from a global perspective. 
Sustainable Agriculture B.Sc. combines the natural and social sciences with economics and technology. This creates a broad curriculum that includes not only classic agricultural subjects such as soil science, botany, and livestock management, but also modern topics such as precision and urban farming, renewable resources and value chain analysis. A variety of interdisciplinary projects, practicals and excursions ensure many opportunities to apply new concepts within a real-world context and better understand how they are interlinked. Refer to the course schedule for this degree programme for a breakdown of topics you will study.
Career paths and skills
By combining the study of sustainability assessment methodologies, a global focus and the flexibility for individual specialisation, Sustainable Agriculture B.Sc. produces graduates qualified for a broad range of career paths. These career paths can lead to companies in agricultural consulting, the nutrition industry, manufacturers of feed, fertilizers, pesticides and seeds, agricultural machinery firms, or associations and agencies dedicated to environmental protection, sustainable development or agriculture.
Admission requirements
Secondary school qualifications sufficient for admission to a German institute of higher education (university entrance qualification)
English level B2 (with internationally recognised certificate)
Completion of an 8-week internship. Note: this is not required prior to initial admission, but must be completed by the 4th semester to continue your studies. To better grasp the topics you will be studying, we strongly recommend a longer internship in agriculture before commencing your studies.
Detailed study information can be found in this degree programme's examination regulations and under Admission Requirements.
Application process and deadlines
Please visit Application and Admission for information about the application process. Applications are only accepted online. The annual application deadline for the winter semester is usually 15 July.
Information
Duration of study
7 semesters of full-time study
Study model
Full-time or part-time degree programme
Internship

Mandatory 8-week preparatory internship/work placement. This must be completed no later than the 4th semester enrolment deadline.