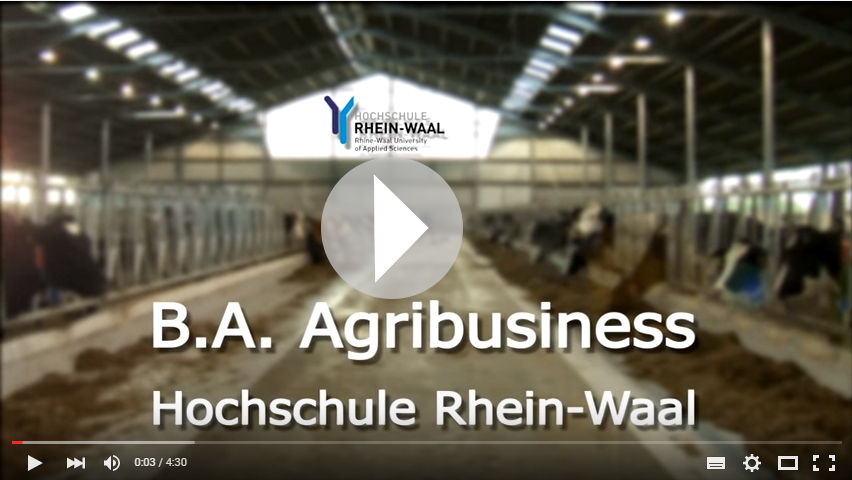 Connecting Horticultural Expertise with Economic Know-How
The Agribusiness bachelor's programme is an innovative course designed to mould students into savvy entrepreneurs capable of running an international business in the agricultural and food sectors. In particular, the course imparts the strong theoretical foundation you'll need to both expertly evaluate real-world business problems typically found in these two sectors, as well as control the value chains of agricultural and horticultural products.
To that end, the curriculum is designed to provide a comprehensive, interdisciplinary education in Agribusiness by combining important business-related subjects – management, accounting, marketing, logistics and quality management – with scientific and technical subjects from the disciplines of agriculture and horticulture. Throughout the course, a continuous focus is placed on the issue of sustainability – a central concern in Agribusiness as changing dietary habits and demand for quality products and production processes increasingly clash with resource scarcity caused, in part, by a rising global demand for agrarian goods. As a result, this course not only prepares you for current Agribusiness market issues, but for future ones as well.
Agribusiness is a global discipline, which is why this study course is taught entirely in English. This not only improves the general proficiency of students dramatically (particularly non-native speakers), but also familiarises them with professional Agribusiness terminology used extensively throughout the field. Combined with the interpersonal team management skills this study course also imparts to students, you'll leave our university with a profound expertise of Agribusiness and a professional profile which qualifies you for a career both in Germany as well as globally.
Career Paths
As a 'green' industry, Agribusiness is one of the most important economical sectors in many countries, including Germany. In North Rhine-Westphalia and the Lower Rhine region in particular, Agribusiness exhibits very promising prospects for the future. Our close contacts to national and international enterprises and institutions in the field of Agribusiness not only increases the practical relevance of the course, but also creates a network for students to connect to to potential future employers.
The Agribusiness programme qualifies graduates to pursue a number of career paths across a wide spectrum of fields and industries, thanks largely to the programme's broad technical training, which includes classical and modern elements of Agribusiness and adjacent discplines. You also have the ability to select elective modules around a specific theme or discipline, thus adding additional expertise to your professional profile and improving your employment prospects in specific fields or sectors.
As this study course is taught in English, many of the career paths below can also be pursued at the international level:
Consulting companies, service providers and NGOs in the agribusiness sector
Nutrition and food industries
Processing companies in agribusiness
Trading, marketing and sales
Manufacturers of animal feed, fertilizers, pesticides and seeds
Machine and plant engineering in agribusiness
Banks and other financial service providers
Associations, public authorities or international organisations in the agricultural or environmental fields
Graduating from this course also qualifies you for a graduate-level programme at a German university as well as abroad.
Information
Duration of study
7 semesters of full-time study
Study model
Vollzeit oder berufsbegleitend
Internship

Mandatory 8-week preparatory internship/work placement. This must be completed no later than the 4th semester enrolment deadline.