Storm Systems
A design project by Anne Reichel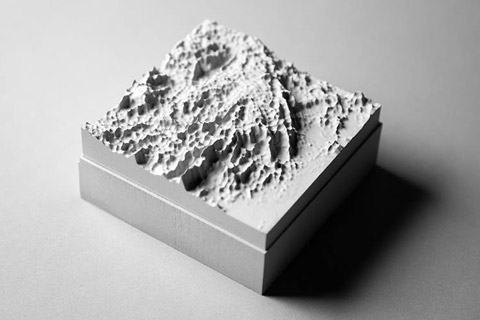 "Storm is a generic term, popularly used to describe a large variety of atmospheric disturbances, ranging from ordinary rain showers and snowstorms to thunderstorms, wind and wind-related disturbances, such as gales, tornadoes, tropical cyclones, and sandstorms. In meteorological terminology storm is restricted to a cyclone with a strong low pressure centre, strong winds, ranging from 103–117 kilometres per hour (64–73 miles per hour), accompanied by heavy precipitation, and at times, lightning and thunder." (Encyclopaedia Britannica, 2013)
We would like to understand severe storms that hit our planet.We probably see a satellite image in the weather forecast but we cannot fathom it. By creating a printed 3D model, an ephemeral moment in time is frozen into something sculptural and beautiful that can actually be touched and seen as a three-dimensional form. Offering the viewer a different perspective gives a better idea of such a system and reveals all the power, the beauty and aesthetic qualities of these atmospheric disturbances.
For the project three of the strongest, most recent cyclones of three different parts of the earth were chosen—hurricane Katrina for North America, the extra tropical cyclone and winter storm Kyrill for Europe and typhoon Haiyan for Asia. The modelling technique of storm systems was instructed by Francis Reddy (Syneren Technologies Corp.). All satellite images were provided by the responsible weather agencies or institutions of each region (NOAA, Deutscher Wetterdienst, National Institute of Informatics, Japan). The modelling software Rhinoceros 3D was used. The milling process—with the Roland MDX40A CNC milling machine, a 3 mm square and a R1.5 mm ball milling head—was managed by Henrik Mucha of the FabLab at Rhine-Waal-University of Applied Sciences Kamp-Lintfort.
The 3D models are accompanied by an info booklet which provides basic information on the topic, the storms that were chosen and the realisation process of the modelling and printing.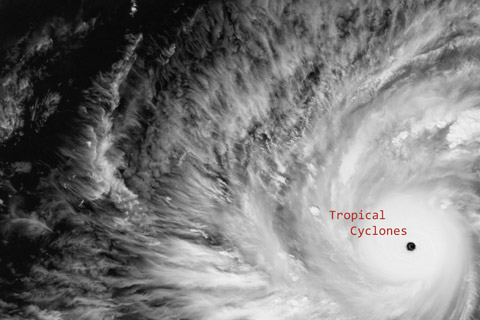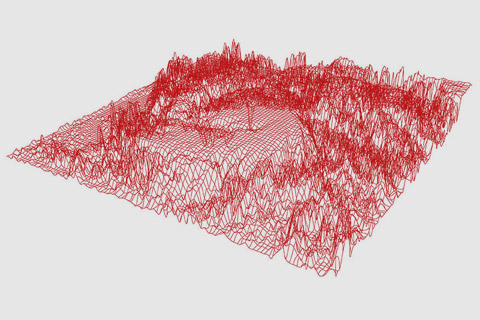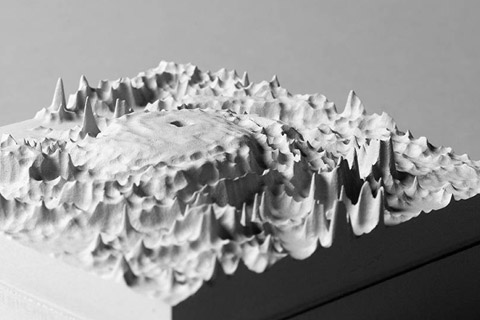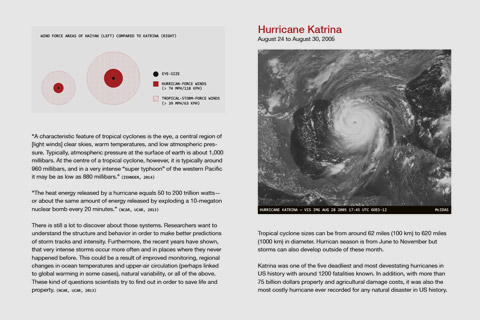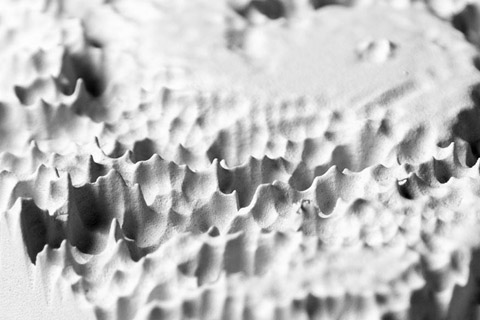 3D models of three storms
Size: 10x10 cm (3.9 inches on each side)
Material: Polyurethane rigid foam (PUR), primed with "Duplicolor-Haftgrund"