Information about the degree program
Economics and Finance M.Sc. is a consecutive degree programme that expands upon your undergraduate foundation in economics and business studies. It is designed to consolidate your existing expertise while also enhancing it with advanced specialist qualifications in the areas of finance and economics.
In particular, the programme will impart to you cutting-edge methods, applications and models found in economics, corporate finance and the analysis of international financial markets. Through experiments in game theory, behavioural economics analysis and empirical market analysis, you will develop and learn to employ a sophisticated research methodology. The multidisciplinary curriculum investigates not only law and economic issues, but also incorporates important macroeconomic and social issues as well. Among other things, you will examine how conflicting viewpoints and actions can negatively affect competition as well as the financial and goods markets, illustrating both the importance and usefulness of value-orientated, ethical behaviour in business. This multifaceted approach will enable you to effectively examine and evaluate economic issues in financial and competitive markets in both national and international contexts.
The degree programme is taught in English. Over the course of your studies, you will hone your proficiency to near-native levels while becoming fluent in the advanced terminology and nomenclature of the highest economic and fiscal circles at the international level. This adds a further dimension to your profile that helps you stand out as an internationally-oriented expert of economics and finance.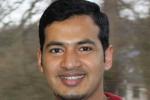 Shaiful from Bangladesh
"Until now I still keep in touch with many of the colleagues who come from Vietnam, Pakistan and Serbia. It is just fantastic, isn't it? More than that, I have acquired priceless knowledge in economics, finance and international financial markets that have sharpened my way of thinking about the business."
More
Requirements
Language Requirements
English language skills at level B2 are required.
Academic Requirements
German entrance qualification for universities of applied sciences or equivalent (refer to the Anabin Database) and a bachelor's degree (or equivalent) in economics and finance with a grade of 2.5 or higher on the German grading scale, equivalent to an ECTS grade of A or B.
Applicants with qualifications obtained outside of the European Higher Education Area must additionally submit Test für Masterstudiengänge in Wirtschafts- und Sozialwissenschaften (TMWISO/TM-BASE) with minimum 102 points or Graduate Record Examination (GRE; V = 150, Q = 162, A = 4,0) or Graduate Management Admission Test (GMAT) with minimum 600 points (overall; quantitative section and verbal section).
Your Team of Economics and Finance
Prof. Dr. Hasan Alkas
Head of Degree Programme, Professor for microeconomics with a focus on International Markets
Dr. Carina Goldbach
Course Coordinator, scientific assistant for Economics and Finance, M.Sc.
Information
Start date
Winter or summer semester
Duration of study
3 semesters of full-time studies