The Executive Board welcomes students to the university

Welcome, dear students! We are happy that you chose Rhine-Waal University of Applied Sciences. You can expect an open, friendly and international atmosphere, dedicated teams of teachers and staff, and beautiful campuses with excellent facilities. At our two campuses in Kleve and Kamp-Lintfort, you will study in a practical and future-oriented environment. Personal contact is important, which is why our lectures, seminars and projects stress small groups and personal introductions for both your fellow students and your professors.
Nevertheless, we are all stuck in a unique situation: The pandemic will not allow us to return fully to in-person teaching at Rhine-Waal University of Applied Sciences in the winter semester 2021/22. Reasons include:
the still dynamic, international nature of pandemic, especially in light of highly infectious delta variant,
lack of space for proper social distancing at full teaching capacity,
lack of information about vaccination progress among teachers and students,
international students who have not received a vaccine approved by Germany's Paul Ehrlich Institute as well as
uncertainties regarding entry and visa restrictions for international students.
We know already that winter semester 2021/22 will not take place entirely on campus. More than half of our lectures and cources will remain online or offered via hybrid teaching due to the pandamic. This approach is sensible for large events and lectures in particular.
At the same time, in-person teaching will be possible once again for smaller courses that rely heavily on interaction and exchange, for example labs, projects etc. In other words, some courses will be online and others, where necessary and feasible, will be in person.
But don't worry: if you can't make it to Kleve or Kamp-Lintfort due to travel restrictions, health concerns or other reasons, we have a solution. You'll still be able to participate in an online semester without falling behind in your studies.
Rhine-Waal University of Applied Sciences won't be able to offer as many in-person courses as it would like in winter semester 2021-22. But learning and exchange in small groups will be possible. Our University Library and other service teams, as well as study areas, will also reopen to students. Thus we recommend that all students begin returning to their campus in Kleve or Kamp-Lintfort for the winter semester.
Regardless of whether you are an undergraduate, postgraduate or exchange student: studying at Rhine-Waal University of Applied Sciences will lay the foundation for your personal and professional future. Stay alert and curious, seek out inspiration and get excited. Use your potential and help others develop their own potential! Please take the opportunity to learn about other cultures and develop your intercultural skills. There are many benefits to this kind of an attitude beyond preparing you well for the global labour market.
We hope that you will experience Rhine-Waal University not only as a place of serious study and work, but also as a forum for communication, an environment of ideas and exchange. A core principle of our University is to respect the opinions and attitudes of others, as well as diversity of being and thought.
We hope your connection with Rhine-Waal University will endure long after you graduate, and that you will remain a part of our global network of alumni and partners.
The Executive Board of the Rhine-Waal University of Applied Sciences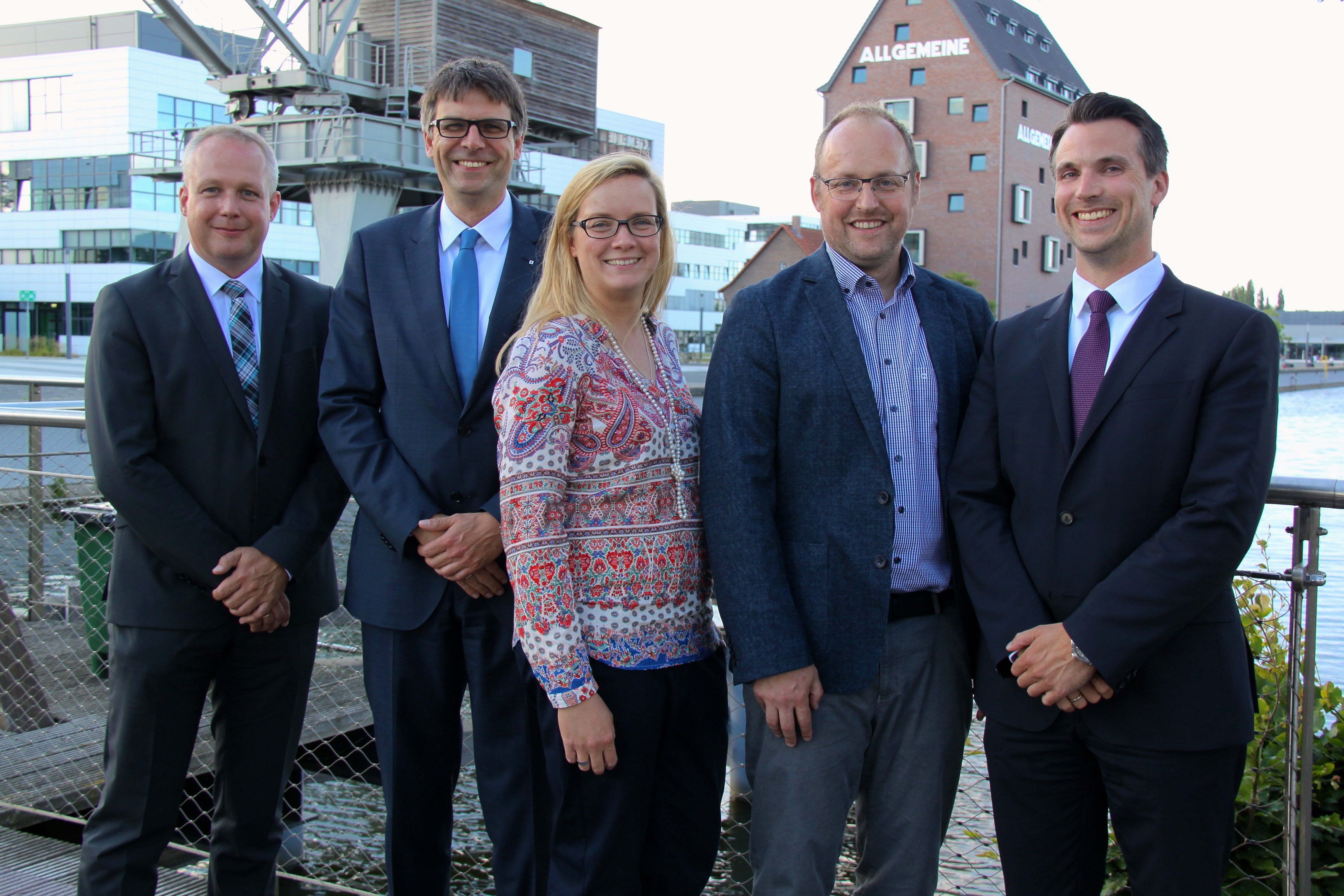 The Executive Board of the Rhine-Waal University of Applied Sciences (from left to right): Prof. Dr.-Ing. Peter Kisters (Vice President for Research, Innovation and Knowledge Transfer), Dr. Oliver Locker-Grütjen (President), Prof. Dr. Tatiana Zimenkova (Vice President for International Affairs and Diversity), Prof. Jörg Petri (Vice President for Studies, Teaching and Scientific Further Education), Michael Strotkemper (Chancellor)
More information for freshers':
Freshers Week
Services for students
Facilities of the university
Accommodation and canteens
Semester Ticket
Financial Aid
Student representatives
Coronavirus - Important Information for Students