The Executive Board welcomes students to the university

Welcome, dear students! We are pleased that you have decided to study at the Rhine-Waal University of Applied Sciences. It's great that you are (finally) here! You can expect an open, friendly and international atmosphere as well as dedicated teams of teachers and employees and campus areas with modern facilities. At our two campuses in Kleve and Kamp-Lintfort, you will study in a practical and future-oriented environment. Personal contacts are important, so in the lectures, seminars and projects, emphasis is placed on small groups and getting to know each other personally – not only with fellow students, but also with the professors.
Nevertheless, we are currently in a special situation: The corona pandemic still does not allow one hundred percent face-to-face studies at the Rhine-Waal University of Applied Sciences in the winter semester 2021/22. Reasons for this include:
the worldwide dynamic pandemic situation, not least due to the delta variant,
insufficient spatial capacities that allow the distance rules to be adhered to when fully opened,
lack of information about the degree of vaccination penetration among teachers and students and that
international students are not necessarily vaccinated with a vaccine approved by the Paul Ehrlich Institute as well as
uncertainties regarding entry and visa restrictions for international students.
It is therefore certain that the winter semester 2021/22 will not take place entirely on campus. And yet the university will again offer you a full course of study. Due to the pandemic, some of the events will continue to take place online or in hybrid form. This makes sense especially for large events and lectures.
On the other hand, being on campus will finally be possible again for events that live from direct exchange, such as laboratory internships, seminars or project work in small groups and other exchange formats. In other words: You will study partly online and be partly present, where necessary and doable.
Those who cannot come in person – whether due to travel regulations, their state of health or other reasons – are also being taken care of. These students benefit from the online offers and will also be provided with a comprehensive study programme this semester.
You will learn and discuss together in smaller events and also experience university life (again). There are also plans to open the library and other service facilities as study rooms even more extensively than before. The university therefore recommends that all students return to their campus in Kleve or Kamp-Lintfort for the winter semester.
Regardless of whether you are a Bachelor, Master or exchange student – with a degree at the Rhine-Waal University of Applied Sciences you lay the foundation for your future. Be attentive and curious, let yourself be inspired and excited, use your potential and support others in developing their potential! In any case, take the opportunity to get to know other cultures at the university and develop your intercultural competence. Last but not least, this will prepare you for the global job market.
We hope that you will experience the university not only as a place for intense learning and work, but also as a place for communication, a variety of ideas and exchange. Central to our university is that the opinion or attitude of others is respected, as well as being different and different ways of thinking.
We hope that your solidarity with the Rhine-Waal University will hopefully last long after you graduate, so that you too can become part of our joint global university network.
The Executive Board of the Rhine-Waal University of Applied Sciences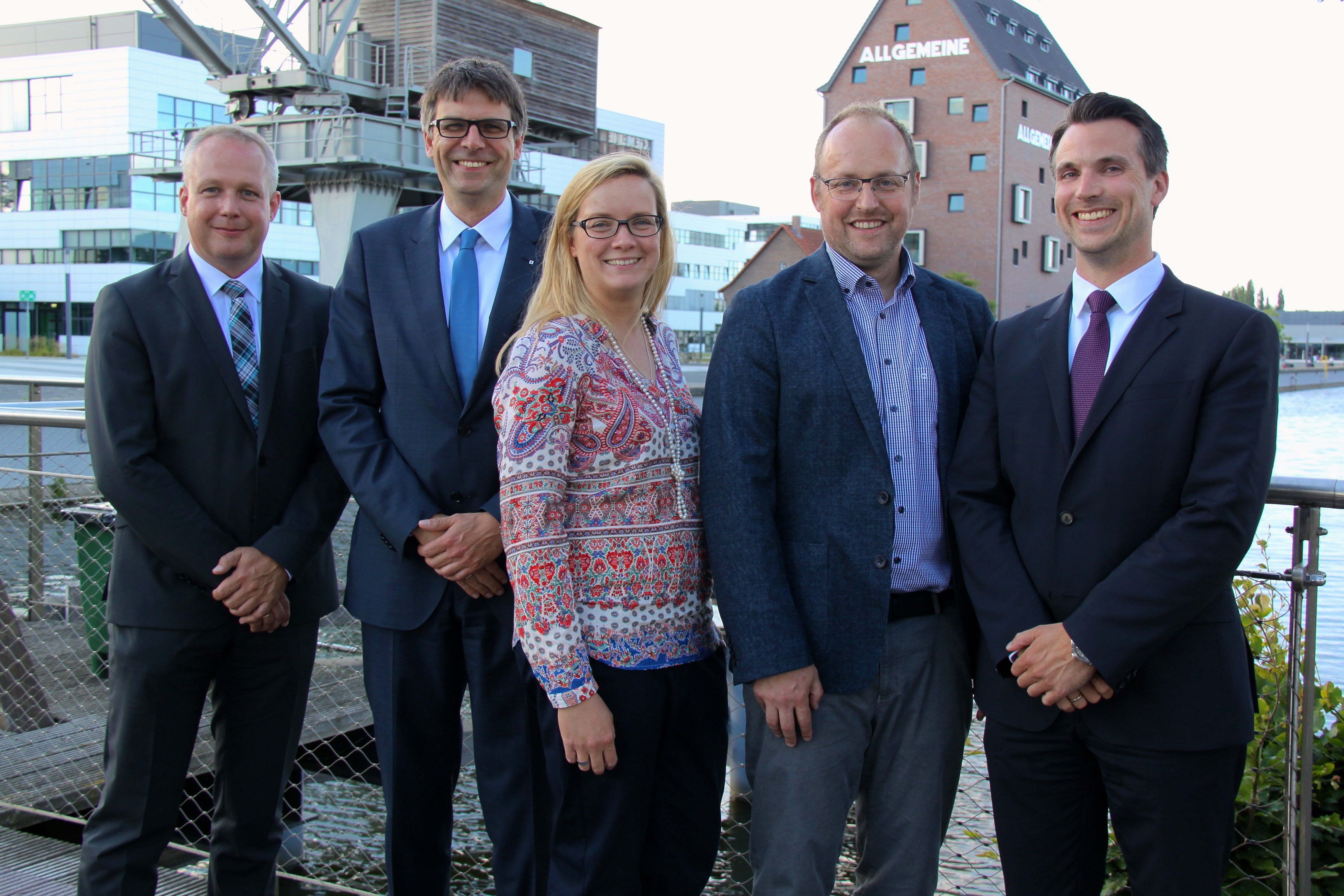 The Executive Board of the Rhine-Waal University of Applied Sciences (from left to right): Prof. Dr.-Ing. Peter Kisters (Vice President for Research, Innovation and Knowledge Transfer), Dr. Oliver Locker-Grütjen (President), Prof. Dr. Tatiana Zimenkova (Vice President for International Affairs and Diversity), Prof. Jörg Petri (Vice President for Studies, Teaching and Scientific Further Education), Michael Strotkemper (Chancellor)
More information for freshers':
Freshers Week
Services for students
Facilities of the university
Accommodation and canteens
Semester Ticket
Financial Aid
Student representatives
Coronavirus - Important Information for Students