News archive
2019
News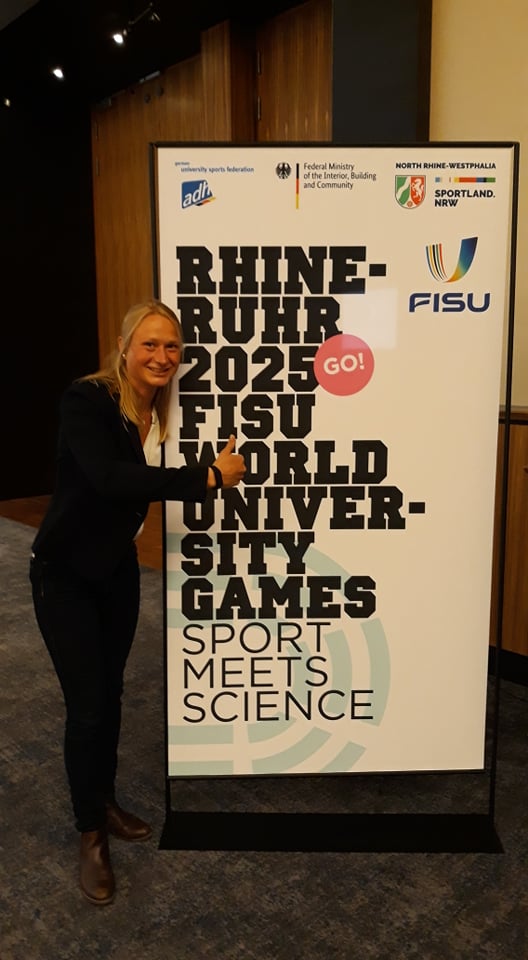 A historic moment for the general German University Sports Association (adh) - the FISU World University Games are coming to NRW.
On Saturday (15th of May) the executive committee of the International University Sports Association FISU declared North Rhine-Westphalia to be the organizer of the Rhine-Ruhr 2025 FISU World University Games (WUG). Sarah Pullich, Chief Financial Officer at adh and employees at the HSRW, was able to experience this goosebumps-moment live. The students of the Rhine-Waal University of Applied Sciences the WUG will have the chance to experience an outstanding major sport-event live.
 The FISU World University Games, formerly known as Universiade, are the world's largest multisport event after the Olympic and Paralympic Games.
The WUG offers thousands of student athletes an attractive stage for top-class sport and a top-class sporting event for visitors.
In July 2025 North Rhine-Westphalia and the Rhine-Ruhr region will host around 10,000 athletes and officials from 170 countries. The competitions will be held in Bochum, Duisburg, Düsseldorf, Essen and Mülheim an der Ruhr. For the students of HSRW this is on their doorstep..
 In addition to the top-class competition, science, sustainability and innovation as well as intercultural exchange are the focus of the event. The organizer of the Rhine-Ruhr 2025 FISU World University Games is the Allgemeine Deutsche Hochschulsportverband (adh).

It's that time again! The summer semester 2019 has begun and therefore also the university sport begins! The dry spell is over and it can be started!
On 28.03.2019 the registration for the university sports starts. Sign up, because this semester is done properly sports.