Welcome to the University Sports Rhine-Waal
If your head smokewhile studying, a balance is ideal: Rhine-Waal University of Applied Sciences therefore offers a wide range of sports for students in Kleve and in Kamp-Lintfort.
 
News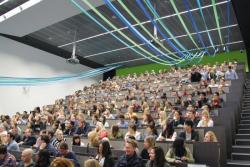 The start of our sports offers was successful. We are happy about all previous registrations! There are still many free places in over 50 sports offers. Students who havent registered can register under the quicklink "Registration course offer" or under this news. Just have a look at our sports - there is something for EVERYONE! If you dont know some sports, you will find interviews on our homepage in a short time, which will give you an insight or just ask us! Also try something new!
We offer a wide range of new and unusual sports. Courses are only available for students. Everything is better with sports. If you want to feel at home in a new city, you need social connection. People to talk to, friends to listen to. And where better to meet new people than in sports?
Dear students,
The northern hemisphere is finally warming up again. Therefore, it is time to showcase the sports that take place outdoors. If you like the sun and fresh air, you should try the following sports: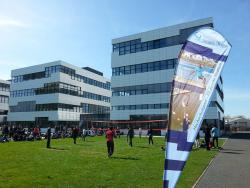 It's finally here again! The summer semester 2018 starts sporty. The first international VolleyGrill tournament was a great success. Last Friday, the Welcome Center and the University Sports organized the first international VolleyGrill Tournament.