Inside HSRW Getting to know our Degree programmes
The Faculty Society and Economics presents its Degree programmes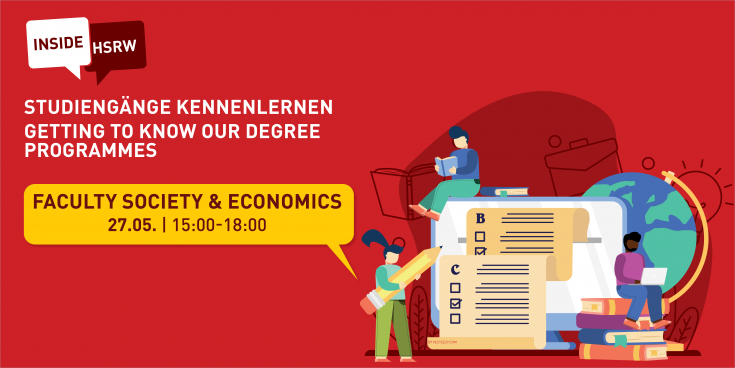 You would like to study, but the choice of a course of study is difficult for you and you have not yet been able to decide? We can help you!
You would like to study in the field of society & economics, but you need more information for your choice of the degree program. We would like to answer your questions and help you in your decision!
On May 27, 2021, the Faculty of Society and Economics will introduce its degree programs and answer your questions.
This link will take you to the event:
https://hsrw.webex.com/hsrw-de/j.php?MTID=mfb9cca697c44599c54b297969098707f
Most of the event takes place in German, but questions can also be asked and answered in English at any time.
Start at 3 pm
General part
Welcome and brief presentation of the faculty by the Dean Prof. Dr. Ralf Klapdor
Introduction of the course coordinators
Online survey on interest in the degree programs
Q/A about admission and application at the Rhein-Waal University of Applied Sciences by Ms. Große-Kreul from the Central Student Advisory Service (ZSB)
From around 3:45 pm.
Q/A Session of the degree programs
Bachelor's degree programs:
International Taxation and Law B.A. and International Business Management B.A.
International Relations B.A. and Gender and Diversity B.A.
Kindheitspädagogik B.A. and Nachhaltiger Tourismus B.A.
Master's degree programs:
Economics and Finance M.Sc and Sustainable Development Management M.A.
We are looking forward meeting you!