Ceremonious farewell to graduates
The Faculty of Society and Economics officially bid farewell to 86 graduates in a hybrid graduation ceremony on November 12th. Since the seats in the Audimax were limited, the ceremony could also be followed online via live stream.
After the last Graduation Ceremony at the beginning of the year took place only online, 71 graduates were happy to receive their certificates in person again. With other guests and university members, a total of 195 people took part in the Graduation Ceremony in the Audimax of the Rhine-Waal University of Applied Sciences. The ceremony was moderated by Prof. Dr. Gregor van der Beek, Professor of Economics with a focus on Finance. However, before he could announce numerous speeches and honours, he asked the people present to observe the corona rules, in particular to keep their distance and to wear masks except for the photos. After a short introduction, the Dean of the Faculty, Prof. Dr. Ralf Klapdor, welcomed and congratulated the participating graduates in the Audimax and on the screen. He emphasised the special achievement of the former students during the pandemic. Representing the Presidential Board, Prof. Dr. Tatiana Zimenkova, Vice President for International Affairs and Diversity, gave the welcoming speech. Prof. Dr. Thomas Pitz provided the musical entertainment on the grand piano with pieces of music he composed himself.
The Katjes Prize, worth a total of 1,000 euros, was awarded again this year. All theses from the Faculty of Society and Economics from the previous year that have received very good marks can be nominated for the prize. The selection is made by representatives of the university and the company according to criteria such as the practical relevance of the topic, the innovativeness of the solution approach, the practicability of the results and the scientific standard. The laudation was held by Prof. Dr. Ralf Bauer on behalf of Mr. Kucken, Head of Human Resources and Social Services, who unfortunately could not be present. Mr. Julian Sohst was awarded for his outstanding work entitled "Energency! The Emergency of Energy Currencies as a Sustainable Challenge for the Contemporary Monetary System".
The ZONTA Student Award, valued with 1,000 euros, was also presented. With this award, the ZONTA Club Niederrhein honoured the extraordinary social commitment of student Marina Thiel from the Faculty of Communication and Environment.  The President of the ZONTA Club Niederrhein, Thea Remers, gave the laudatory speech and presented the certificate. The ZONTA award recognises committed female students and is intended to encourage them to do something for their fellow human beings.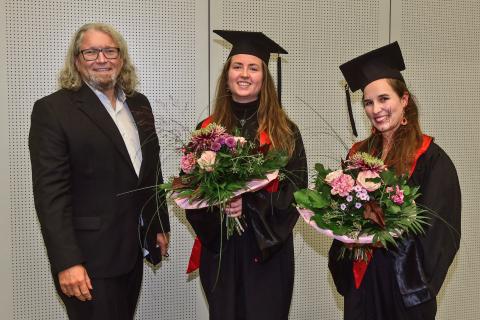 Mara Janßen from the programme Early Childhood Education, B.A. was honoured as the best Bachelor's graduate and Jessica Jung from the programme Sustainable Development Management, M.A. as the best Master's graduate.
Finally, all graduates present received their certificates from the representatives of their degree programme before the graduation ceremony ended with a champagne reception.