E- Government / Dual-vocational study in block mode


Beginning in winter semester 2020-20201, the degree programme E-Government will be offered in an additional, dual-vocational mode of study in collaboration with the State Government of North Rhine-Westphalia. This dual study programme will feature a block curriculum and is aimed specifically at candidates for higher civil service positions in IT operations for public administration (in German: Laufbahngruppe 2, erstes Einstiegsamt, des technischen Verwaltungsinformatikdienstes).
What you will study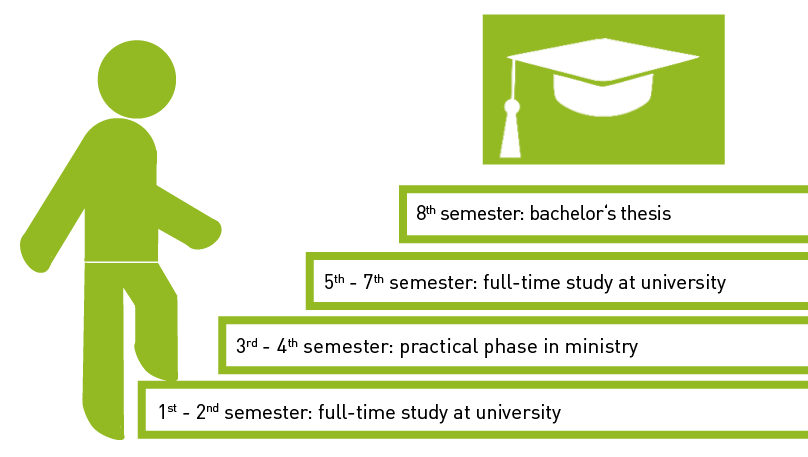 The contents of the dual study variant are identical to its full-time counterpart, but the study durations differ slightly: dual study requires an additional semester due to an extended, year-long practical phase.
Dual study students spend the first two semesters studying full-time in Kamp-Lintfort. The practical phase occurs in a government ministry or public authority during the third and fourth semesters. The training and contents of this year are defined by the collaborating institution itself. This allows students to apply the knowledge and skills acquired at Rhine-Waal University in the real working environment of their future area of employment. After the practical phase, students return to the University full-time to complete their degree, acquiring more in-depth knowledge and skills in advanced modules and emphasis areas. The dual study programme concludes in the eighth semester with a thesis written in collaboration with the institution from the practical phase as well as a final oral defence conducted with professors at Rhine-Waal University.
When and how to apply
A dual-vocational study programme requires a corresponding contract with an external institution, so the first step is to apply to a relevant public authority as a candidate for higher civil service in IT operations. Please find the application portal here. Should you be accepted by the public authority for this career track, you may then apply to Rhine-Waal University to become a dual study student in E-Government during the next intake period.
Entry requirements (Rhine-Waal University)
Please check here for general admission requirements.
Other requirements for E-Government, B.Sc.:
A sufficient level of German language proficiency (CEFR level B2 or better).
Interest in computer science, business administration and administrative organisation, working in exiting interdisciplinary teams, and solving scientific and technical challenges.
What else should I bring to the course?
The following knowledge and skills will prove very useful:
Logical thinking skills and enjoyment of mathematics
Previous programming experience
Solid command of English
Good presentation skills, particularly for new ideas
Teamwork skills
The decision to pursue a degree with a concentration in Computer Science is ultimately a personal one. Nobody should feel pressured into pursuing a degree because there's a lack of specialists in a certain field or because a certain degree programme is offered nearby. In fact, this is one of the main reasons why so many students drop out of these programmes within the first year. If math has always been a thorn in your side, then degrees involving Computer Science are best avoided. However, if you merely lack a solid background in mathematics, but not the motivation or talent to make up for it, then you're in the right place. We'll provide you with the mathematical knowledge and tools you'll need to succeed.
If you're considering a degree in E-Government, note that the Faculty of Communication and Environment offers you additional ways to learn more about the degree programme and its content. We welcome and encourage you to sit in on different lectures during our Sneak Study event, visit us during our annual Open Day or arrange individual visits to lectures during the semester!
Information
Duration of study
8 semesters of dual-vocational study in block mode
Internship

No preparatory internship neccessary