Use e-books, e-journals and databases at home or on the move
EZproxy allows access from outside the university network to most databases and electronic full texts licensed by the library.
From an external network you can access our licensed online resources through Katalog PLUS. Accessing a full text for the first time you will be redirected automatically to the EZproxy-login webpage of Rhine-Waal University: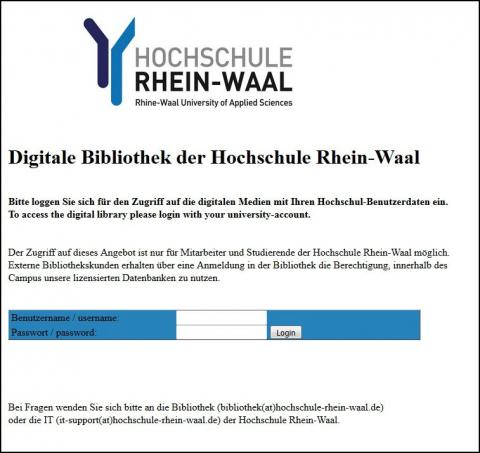 Login using your university user account information for external access.
After the login you can access licensed databases, e-books and e-journals as usual.
Please note:
As long as you are connected via EZproxy, the URL contains "ezproxy2.hsrw.eu".
You leave the EZproxy area if you type URLs directly into the address bar of your browser, or visit pages that do not lead to providers of our licensed material. You recognize this by the fact that the URL no longer contains the addition and you no longer have access to the contents licensed by the library. If that happens you need to begin your search in Katalog PLUS again.