International Business Administration, B.A.
Study locally, act globally
Are you interested in earning a degree in business economics and later embarking on an international career? Then this degree programme is for you!
Our cosmopolitan English-speaking learning environment and our strong international focus make us almost unique among German universities. Our goal is to equip you with a broad range of expertise in both business economics and key areas beyond.
Here you will learn not only to think like an economist and understand nuanced economic interrelationships, but also expand your portfolio of skills to include project management, presentation techniques as well as academic research and writing. Naturally, you will learn to use a wide array of digital media and tools along the way. This overall approach will prepare you for the challenges associated with increasing levels of internationalisation and digitalisation in all economic and social areas of activity. At the same time, we attach great importance – and attention – to how these challenges relate to the special conditions and characteristics found at international companies and organisations in particular.
International Business Administration B.A. offers answers to questions like
How can I recognise emerging market trends?
What is the psychology behind consumer behaviour?
How do I correctly calculate prices for my products?
How is innovation managed effectively?
How do I create a business plan for a startup?
How do I choose which stocks to invest in?
How is profit calculated?
How does a national economy function (using the example of Germany), and how is it affected by the European Union?
How can I protect a company that exports products to other countries from currency fluctuations?
How can a company remain both profitable and true to principles like ethics and sustainability?
How can I manage complex projects with a large number of contributors?
What you will study
You will start out by learning the inner workings of companies in the first-semester module Fundamentals of Business Administration, before then branching out and expanding your growing expertise in areas such as
Marketing
Strategic and Corporate Management
Accounting
Human Resource Management
Innovation Management
Corporate Finance and Investment
You will also explore the decision-making processes of both manufacturers and consumers from an economic perspective and learn, among other things, how central bank interest rate changes can affect the commercial lending market. You will learn about and practice using the fundamental instruments of business mathematics and statistics so that you can comfortably apply them to real-world examples.
Not only that, but you will also learn key methods from the field of business economics in the module Research Methods in Management. This will put you in a position, for example, to conduct a meaningful analysis of market research results and thus gauge if and how changes in consumer prices are affecting unemployment levels. Beyond that, you will also learn about the various legal forms available for companies and how companies are affected by EU law.
International Business Administration B.A. combines independent data collection methods (empirical knowledge) with the study of theory-based models and methods in order to define and answer economic questions as sharply and cleanly as possible. We incorporate numerous forms of modern teaching like flipped classrooms and research-based learning, creating ample opportunity to apply your knowledge and also hone your problem-solving skills. We also place great importance on expanding your set of universal professional skills in modules such as Project Management and Corporate Social Responsibility.
Have you toyed with the idea of founding your own startup after graduation? Then modules like
Innovation Management
Entrepreneurship and Business Planning
Design Thinking
will equip you with essential tools and know-how for success.
In your fifth semester, you will collaborate with students from other degree programmes on a large interdisciplinary project. Your team will investigate and develop potential solutions for challenges affecting real companies and organisations at the local or national level.
Your fourth and fifth semesters are also when you can choose your degree's emphasis areas depending on your personal interests and career aspirations. For example, you can specialise in
Trend Research
Business Ethics
Digital Technology and Data Analytics
Consumer Psychology
Finance and Accounting
Political Economy
Your sixth semester is dedicated to applying what you have learned. You can choose to embark either on an internship semester in a company or other organisation, or put your intercultural skills to the test in an exchange semester at a partner university abroad. The seventh and final semester is dedicated to your thesis and colloquium (viva voce/oral defense).
Career Prospects
A Bachelor of Arts in International Business Administration qualifies you for leadership positions across a variety of teams and departments in local and international companies or non-profit organisations, for example in the areas of purchasing, distribution, financial management and marketing. Graduates are also qualified and well prepared to found their own business as well. Many of our students opt to continue their studies with a follow-on master's degree either in Germany or elsewhere in the world thanks not only to their excellent command of English, but also their extensive knowledge base.
Entry requirements
We welcome applications from nationals of all countries. Please check here for general admission requirements.
Other requirements for International Business Administration, B.A.:
A sufficient level of English language proficiency (CEFR level B2 or better).
Completion of an 8-week internship before the start of the 4th semester. You can also do this internship in your home country before applying to Rhine-Waal University of Applied Sciences.
Interest in business and management as well as scientific working.
When and how to apply
Application guidelines for international applicants
Application deadlines
During the application period you can submit your application online by using our application portal or uni-assist in case you do not have a German entry qualification to higher education.
Please contact us for more information and advice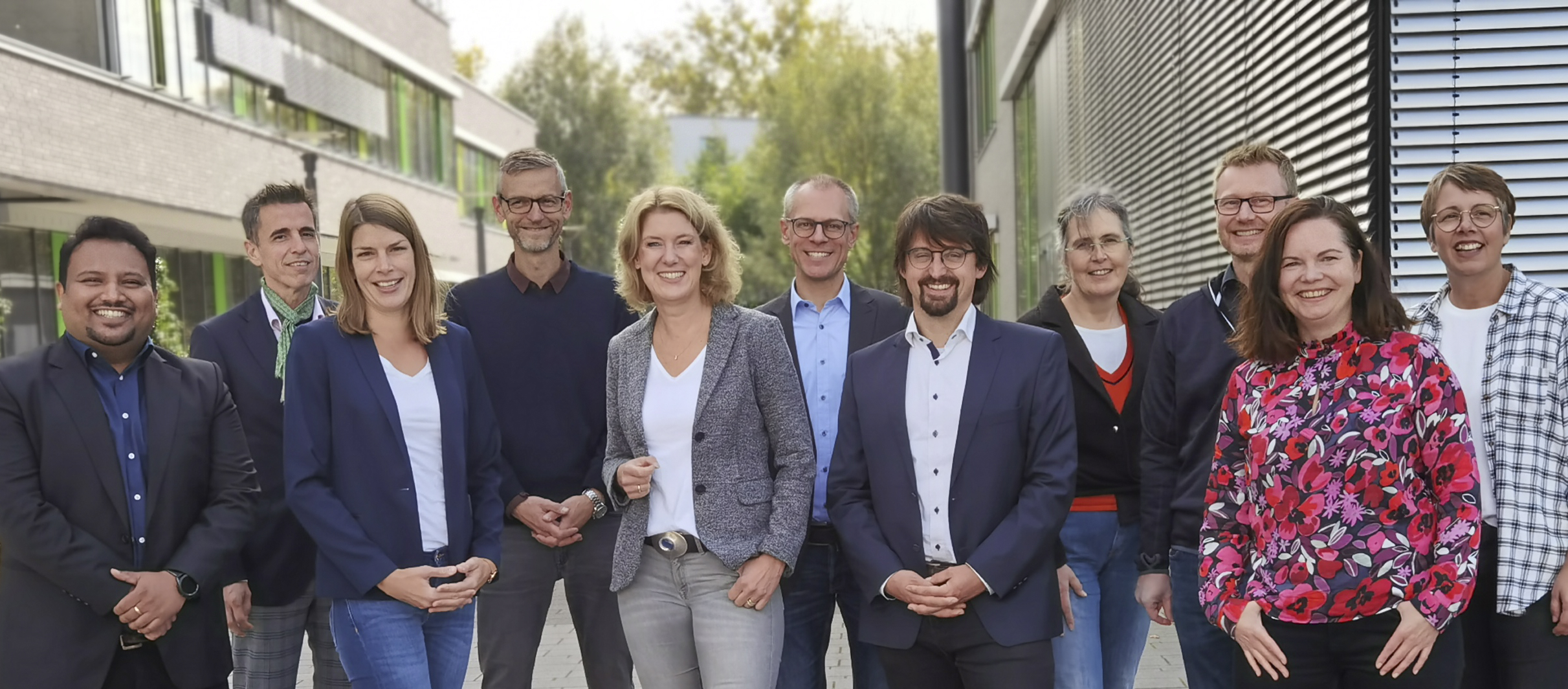 Our IBA Team
Contact
Kamp-Lintfort Campus
Friedrich-Heinrich-Allee 25, Germany
47475 Kamp-Lintfort
Tel.: +49 2842 90825-0
Email: info@hochschule-rhein-waal.de
Head of Degree Programme
Prof. Dr Franca Ruhwedel
E-Mail:
Prospective students can find a contact form and FAQs here.
Rhine-Waal students can find a contact form and FAQs here.
Exchange students please contact our International Office.
Email: international-office@hochschule-rhein-waal.de
Information
Duration of study
7 semesters of full-time study
Internship

Mandatory 8-week preparatory internship/work placement. This must be completed no later than the 4th semester enrolment deadline.