International Business Administration, B.A.
Study locally, act globally
Are you interested in business administration and striving for an exciting international career? If so, this degree programme could set you on the perfect path to success. Our cosmopolitan English-speaking learning environment and our strong international focus make us almost unique among German universities. We aim to give you a competitive edge in the job market, equipping you with an extensive grounding that consists of more than just business economics. The sound understanding of economics and economic interrelations combined with tangible practical skills that businesses need, will enable you to assess and respond to the challenges posed by internationalisation.
What you will study
After having acquired a firm grounding in the fundamentals of business administration, the first semesters will also give you the opportunity to deepen your knowledge in subjects like Marketing, Controlling, Human Resource Management, Supply Chain Management or Corporate Finance and Investment.
You will get familiar with the basics of economics, mathematics and statistics and explore analytical and methodological instruments that will help you to make excellent use of e.g. market research data. The degree also addresses the legal framework that businesses operate within and provides a detailed understanding of European law.
From day one we will also support you in developing key skills like project management or communication and cooperation to the best of your ability. You will also have the opportunity to optimize your chances by learning a new language. If you have ever considered starting your own business, subjects like "Innovation Management", "Strategic Management and Business Planning" or "Entrepreneurship and Taxes" will be highly beneficial.
The 4th and 5th semester will then give you the chance to specialize in particular areas by choosing electives like "Strategic Marketing", "Finance and Accounting" or "Political Economy" according to your own interests and career aspirations.
The 6th semester is focused on the application of your knowledge and will give you the chance to do a practical semester at a company in Germany or abroad. You may also opt for an exciting period of studying abroad to enhance your intercultural expertise. Your studies conclude with a thesis in the 7th and final semester.
Career Prospects
With a bachelor's degree in International Business and Social Sciences, you will be highly qualified for a career in international companies as well as in the not-for-profit sector. You will find employment in a wide range of roles from purchasing and distribution to controlling and marketing. Alternatively you can use your skills to start your own business.
Entry requirements
We welcome applications from nationals of all countries. Please check here for general admission requirements.
Other requirements for International Business Administration, B.A.:
A sufficient level of English language proficiency (CEFR level B2 or better).
Completion of an 8-week internship before the start of the 4th semester. You can also do this internship in your home country before applying to Rhine-Waal University of Applied Sciences.
Interest in business and management as well as scientific working.
When and how to apply
Application guidelines for international applicants
Application deadlines
During the application period you can submit your application online by using our application portal or uni-assist in case you do not have a German entry qualification to higher education.
Please contact us for more information and advice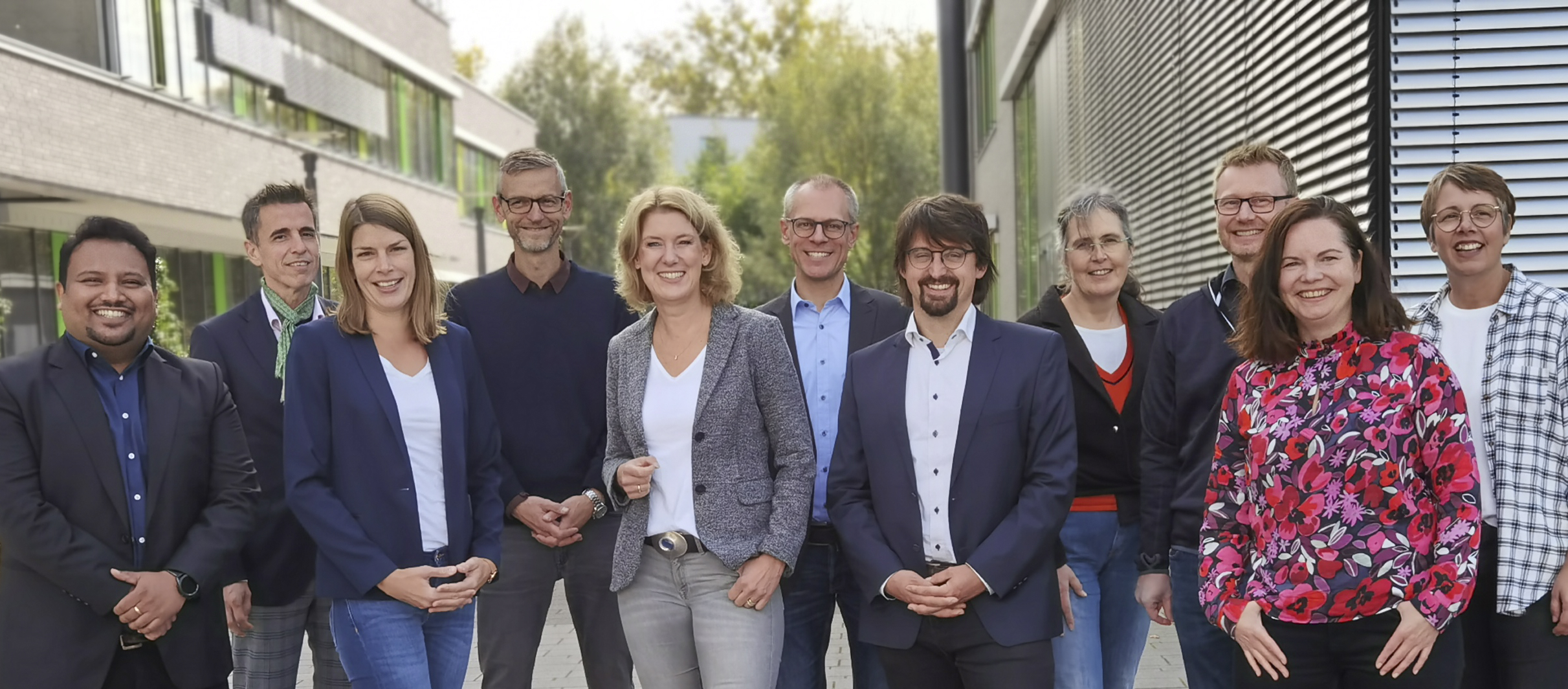 Our IBA Team
Contact
Kamp-Lintfort Campus
Friedrich-Heinrich-Allee 25, Germany
47475 Kamp-Lintfort
Tel.: +49 2842 90825-0
Email: info@hochschule-rhein-waal.de
Head of Degree Programme
Prof. Dr Torsten Niechoj
E-Mail:
Prospective students can find a contact form and FAQs here.
Rhine-Waal students can find a contact form and FAQs here.
Exchange students please contact our International Office.
Email: international-office@hochschule-rhein-waal.de
Information
Duration of study
7 semesters of full-time study
Internship

Mandatory 8-week preparatory internship/work placement. This must be completed no later than the 4th semester enrolment deadline.