President welcomes all students to the summer semester 2021
Whether HSRW-newcomer or HSRW-veteran: President Dr. Oliver Locker-Grütjen welcomes all students digitally to the summer semester 2021. In the third semester under Corona conditions, he encourages the students to see the current challenges also as an opportunity. An opportunity to be "crisis-proof", flexible and resilient for the future obstacles. Nevertheless, he is already looking forward to a reunion on campus as soon as possible.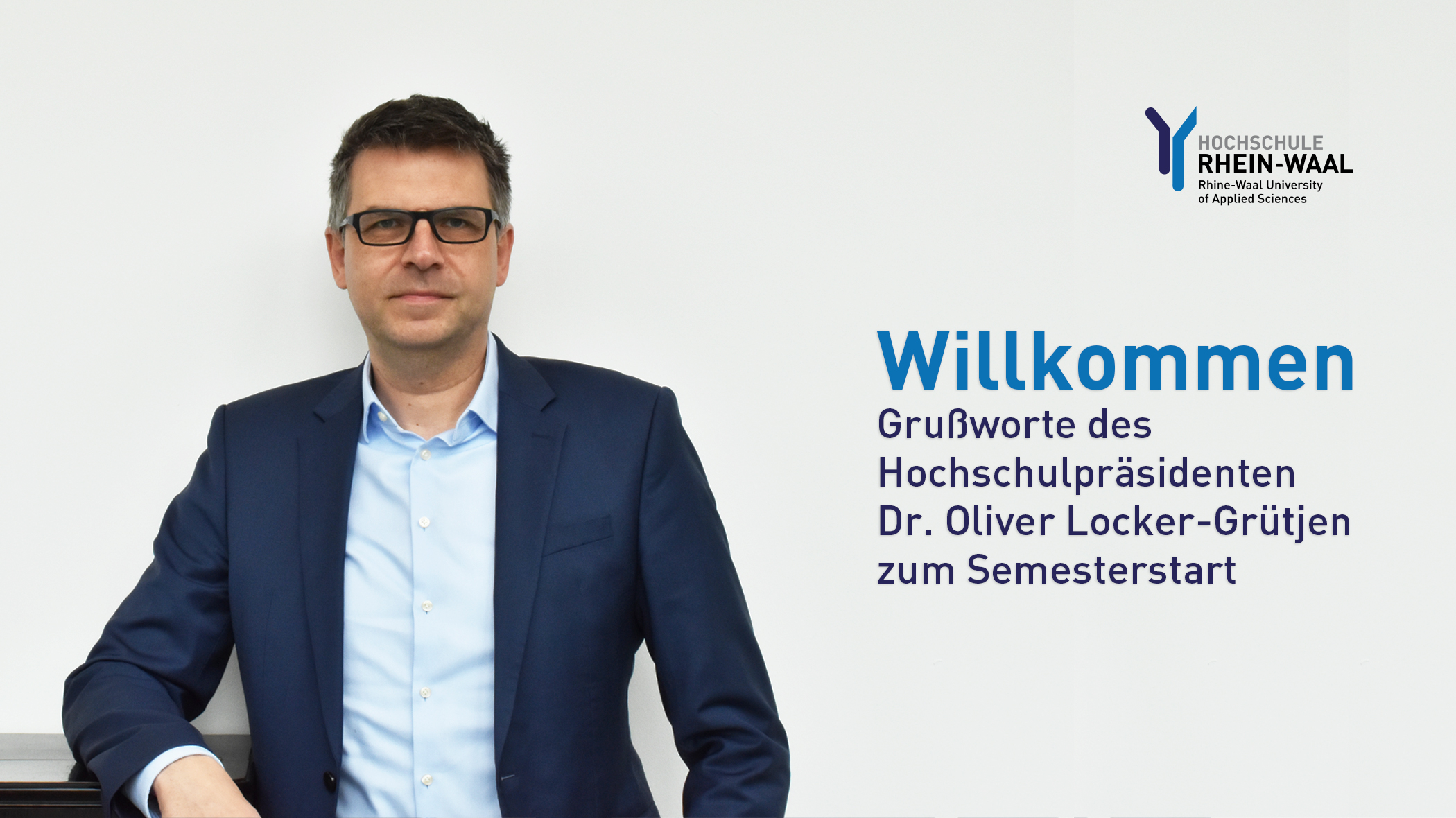 Video with English subtitles: "President welcomes all students"
Dear new and returning students of Rhine-Waal University of Applied Sciences, 
I warmly welcome you. What challenging times these past months have been. The pandemic has dominated all aspects of our lives for over a year: our work, our private lives, the lives of our students and all forms of networking. For over a year now, we've had to deal with strange new terms like "Framework Hygiene Concept", "Coronavirus Protection Ordinance" or, like here, "SARS-CoV-2 Antigen Rapid Test Kit".
And since March 13, 2020, official restrictions have also affected our daily operations. Even today we remain in a precarious phase of the pandemic that will require our commitment, patience and shared responsibility for weeks to come. I'm hopeful that we can soon return, bit by bit, to campus. That's why it's important for me personally to reflect on all the lessons we've learned in these trying times that we might use in the future.
We've all shown a great deal of flexibility over the past year. All employees of the university, all lecturers, have demonstrated their flexibility by offering courses largely online and in a highly flexible manner. 
But you, our students, have also shown enormous flexibility: actively participating in our online courses and in a digital semester is proof of your willingness to be flexible and adapt. Never lose your willingness to adapt: it will be a very valuable skill to have on your future path in life.
Because in today's professional world, no stone has been left unturned: complex interface projects involving new digital technologies, alternating teams and new tasks have become standard to our work routines and guarantee rapid and continuous change.
Embracing new and unfamiliar situations: that's the "new normal". Right now you are mastering the first step in a "new normal": earning your degree under pandemic conditions. What you are doing right now has never been asked of students before. Take a moment and be proud of yourself.
The world has changed rapidly over the past few months. You've also experienced incredible changes that came suddenly and without warning. You went from school straight to university, had to confront these changes head on, and were essentially forced to become an adult overnight. This resilience will surely serve you well for the foreseeable future.
Young people in particular were forced, almost overnight, to become adults, assuming new levels of responsibility for themselves and others. Maintain the strength and the clear headedness that you've earned over this time. These will help you in the future with difficult professional decisions or in stressful emotional situations in your private lives.
And if you just can't be strong for a moment: That's OK too. But don't sit alone in front of your laptop, seek out conversation instead and ask for help when you need it. That's easy at a young university like ours. You're not a number on an anonymous campus. Contact your link professor, the Student Advisory Service, AStA, or just talk to one of your fellow students.
But what we miss the most is social interaction. With that I mean networking, celebrations on campus, there are so many examples: interacting with fellow students, collaborating with other researchers, and of course: we miss HSRW sports, we miss HSRW music. All of that will return, I promise you that. I just don't know when.
We all have to forge on and we have the strength needed, because over the last year we've learned that we can make it through the pandemic with resilience and flexibility. We can do it.  You can do it. And we will support you every step of the way.
Dear incoming and returning students, look forward to summer semester 2021. I wish you all the very best and I hope that we can see each other again soon on campus in Kleve or Kamp-Lintfort.