Mechatronic Systems Engineering
Bild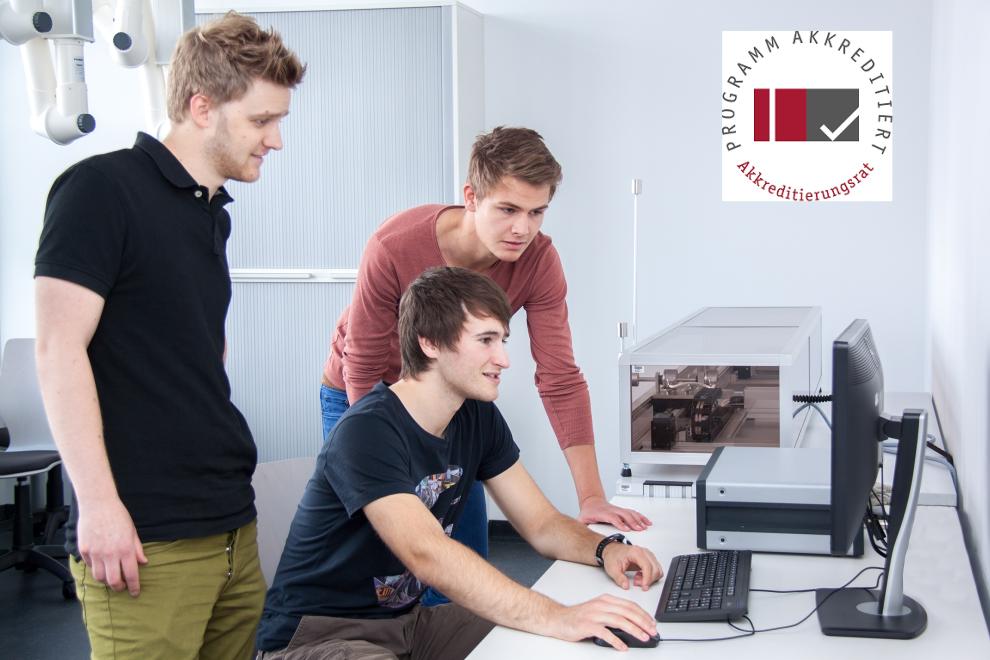 Innovation arises on the borders between disciplines!
With each new, innovative development, the inner workings of modern products increase in complexity. Not only that, but as products evolve, research and development efforts for the subsequent generation of products also grows more and more complex. In order to keep up with this cycle, engineering teams are beginning to replace or supplement conventional mechanical approaches to problem solving with newer electronic and software-based approaches, creating a new integral, multidisciplinary design process referred to as mechatronics. This complex intermeshing of disciplines requires profound technical expertise as well as finely-tuned soft skills in order to effectively work in the diverse teams of experts it usually involves.
The Mechatronic Systems Engineering bachelor's programme was designed with these advanced qualifications in mind, employing a highly technical, interdisciplinary approach with three main areas of emphasis: Mechanical Engineering, Electrical Engineering and Computer Science. The unique combination of modules expands upon these three core disciplines with additional units on natural science, technology and management techniques, providing a very broad professional foundation. At the same time, continuous emphasis is placed on developing team skills through practical exercises, extensive group activities and exciting, student-led projects, which provide ample opportunity to put growing theoretical knowledge and management skills to the test.
The programme is taught completely in English, which will greatly enhance your level of fluency and enable you to more easily and effectively communicate in a group-environment with other experts from around the world.
Course Structure
The Course Structure can be found here.
Altogether the degree programme consists of seven semesters of standard study time. Basic knowledge will be taught in the first three semesters. Following this, knowledge will be intensified in semester four and five. At the same time, selections of optional courses are made to form a study profile. The practical semester or the study semester abroad will follow in semester six. The seventh and therefore last semester is for writing the undergraduate thesis. Here, we will also attach great importance to practical relevance and support any co-operation with the free economy. Furthermore, necessary skills for writing a thesis will be provided in block courses. Finally, studies will be completed with an academic conference.
Career Paths
As a mechatronics systems engineer, your mixed profile of technical expertise and managerial skills will qualify you for manifold professional possibilities Typical fields of activity are:
Development (planning, calculation, construction and testing of technical plants and systems)
Production (planning, assembling, operation and inspection of technical plants and systems, control of products and procedures, quality management)
Sales, marketing and distribution of technical plants and products
Management positions in industry, private companies or government
Other exciting career opportunities can be found in the branches energy und environmental technology, general machine and plant engineering, the automotive and supply industry, medical technology, the pharmaceutical industry as well as the service industry and smaller to medium sized companies.
Information
Place of study
Campus Kleve
Start date
Winter semester
Language
English
Duration of study
7 semesters of full-time study
Study model
Full-time studies
Degree awarded
Bachelor of Science
Internship
Mandatory 8-week preparatory internship/work placement. This must be completed no later than the 4th semester enrolment deadline.
Restricted admission
No
Questions about Mechatronic
Systems Engineering B.Sc.:
Heads of the Degree Programme
Prof. Dr.-Ing. Thorsten Brandt
Phone: +49 (2821) 80673-601
technology-bionics@hochschule-rhein-waal.de
or
NN
 
Questions about applying:
Student Advisory Service
http://www.hochschule-rhein-waal.de/de/studium/studieninteressierte/contact-form-faq-prospective-students
Phone: +49 (2821) 80673-360
Downloads