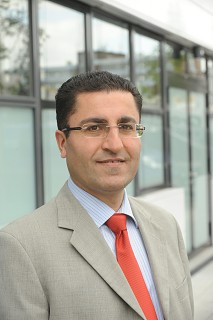 Prof. Dr. Hasan ALKAS is Professor for Microeconomics with focus on International Markets and and he was dean of the faculty Society and Economics until 2015. His main teaching areas are Micro-, Regulatory-, Institutional- and Organisational Economics, Applied Game Theory and Innovation Management.
From 2006 to 2010 he has been working as Principal Economist at the European Commission, Enterprise and Industry Directorate-General, with focus on Competitiveness and Innovation Aspects of ICT, Key Enabling Technologies, Energy- and Industrial Policy.
From 2001 to 2006 Dr. Alkas was working in leading positions at Deutsche Telekom, responsible for Regulatory Economics, Strategy and Pricing. Prior to that he was working as Senior Economist  at the Scientific Institute for Infrastructure and Communication (WIK), leading projects in Regulatory Economics and Pricing in Bonn.
Prof. Alkas is a specialist in regulatory and industrial economics especially in Telecoms, Postal and Energy markets. His main research areas include Pricing strategies in network industries (telecoms, post and energy); Regulation, costing and new investment theory of real options; Industrial policies for Key Enabling Technologies (KETs) as well as Quantitative economic modelling on e-solutions and ICT productivity.
Prof. Dr. Alkas holds a degree Diplom-Volkswirt from University of Bonn, a Master of Science from the University of Sussex and a Doctorate from the University of Cologne. He has several international publications on regulation, pricing, costing and investment theory.