Digital Manufacturing Future
The digital age has taken the world of industrial production by storm and it's rapidly changing the industry's established technologies, methods and systems. How will this affect the future of production? At the Digital Manufacturing Future Symposium 2015, which will be held on the Kamp-Lintfort Campus of Rhine-Waal University on February 18, experts will come together to discuss the digitalisation of manufacturing, answering this question and others like it.
The Digital Manufacturing Future Symposium 2015 is an opportunity for experts to shed light on the important digital and technological trends which are shaping the future of manufacturing. Touching on this complex topic, Prof Dr-Ing Christoph Haag, Professor of Procurement and Value Chain Management at Rhine-Waal University of Applied Sciences, explains that "new fabrication technologies like 3-D printers will enable new degrees of flexibility in production. This flexibility makes not only the production of objects with complex shapes economically feasible, but also the production of highly individualised goods in smaller unit quantities."
At the same time, planning and control concepts in fabrication processes are also undergoing notable paradigm shifts. Sender-receiver technologies, such as RFID transponders, are enabling new forms of intercommunication between fabrication machinery, and can distribute production orders to highly flexible processing centres locally and on an ad hoc basis. In the near future, for example, transponders will allow a workpiece, e.g. a blank for a cog wheel, or a workpiece carrier to automatically transmit instructions for the next fabrication step to a production station. By combining increasingly flexible, automated machine cells in innovative ways, a greater variety of economically viable manufacturing concepts is possible. What's more, as machinery around the world becomes increasingly flexible and is able to process more standardised manufacturing tasks, the production industry will become less confined to specific locations and more global.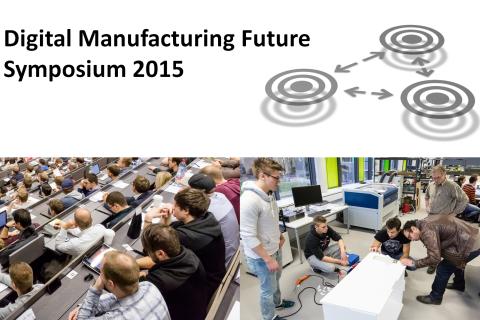 The Digital Manufacturing Future Symposium 2015 will be led by Prof Dr-Ing Christoph Haag and Prof Dr Torsten Niechoj, Professor of Economics and Political Science, both of whom teach in the Faculty of Communication and Environment at Rhine-Waal University of Applied Science. The theme of the symposium will be Technology, Methods and Systems of the Digital Age. Experts from both research and industry will provide participants with interesting and interdisciplinary insight into this highly relevant topic, while examining a broad range of important questions: Are we approaching the end of centralised factory structures? Will consumers eventually become household manufacturers able to meet their own production demands? What role will social media play in the future of manufacturing? What economic effects can we expect from these ongoing changes? And more.
There is no cost to participate in the symposium, nor is formal registration required. If you are interested in participating, simply contact the organisers via
e-mail at dmfs2015@hochschule-rhein-waal.de
or fax at 02842-908-251-60
by no later than January 31, 2015. Please specify your company/institution and e-mail address in your message.