Here you can find the latest news and updates about university music. In addition, a piano may be found in the foyer of the Audimax on both Kleve and Kamp Lintfort campuses which also serves as a "pillar for advertisement" of university music on campus: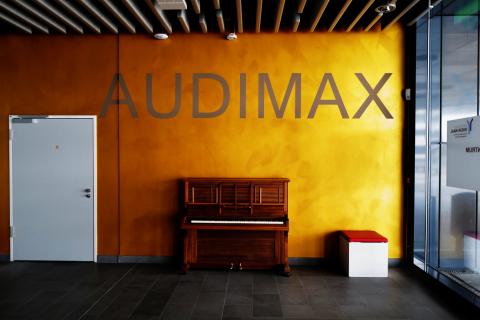 Hello, my name is ... crap! Sorry I forgot. I'm already over 100 years old, so you sometimes forget these things! The fact is that I'm here now because I was offered a job with a lot of interaction and direct contact with students. Puff cake! I have rarely felt lonely. These are the times, but you can't help it! My job description sounded so good: advertising pillar for university music at Rhein-Waal University! I should be dressed nicely and be providing you with university music news, but now I'm naked! My job prospects were no longer particularly bright due to my age anyway, since I am no longer the musician I once was! But thanks to my mindful personal hygiene and my conscious lifestyle, I am still very pretty to look at. Therefore I would like to provide you with some good news, but at the moment I could use some entertainment myself. I am soooo bored! Can't you play me a few songs to cheer me up a little?
Send the videos to my friend Marco:
marco.vanheys@hochschule-rhein-waal.de
We listen to the material and like to post the most beautiful videos here, so that we can all feel better until everything is up and running again. Until then, I  look forward to the homepage soon, where one can find some news.
And one more thing: If my name really doesn't come to mind, I'm open to suggestions at: marco.vanheys@hochschule-rhein-waal.de
I hope we get to know each other soon, stay healthy!
Sincerely
Your ... oh dear, I need a name very quickly!