Overview
Rhine-Waal University promotes, with a four-stage program PRO4-HSRW, young academicians with the aim of career development to a professorship at a university of applied sciences.
The career path to a professorship requires early stage promotion. For this reason, the aim of this program is to support especially young academicians with a career vision of a professorship. Diversity and equal opportunity is central to PRO4-HSRW project.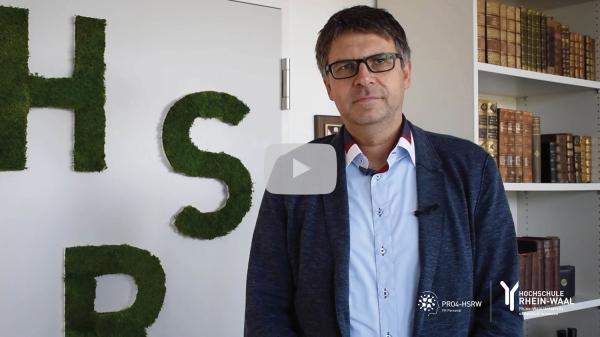 Goals
The PRO4-HSRW project leads to a better promotion of future professors as well as to a sustainable development of the professorial staff at the Rhine-Waal University of Applied Sciences. The aim of this model is the career development of academicians with a holistic approach.
The university is pursuing the following main goals with the project:
To develop a coherent career strategy for the staff recruitment.
Implementing measures that address the central challenges of personnel recruitment at universities of applied sciences in line with the qualification phase.
Increasing competitiveness by implementing an experimental 12+1 concept and research focus professorships.
Development of a structured doctoral program in the sense of a coherent career ladder at universities of applied sciences and as a component of the HSRW's internationalisation strategy.
Strong focus on the integration of research, teaching and transfer in structural human resources development to attract and promote staff at universities of applied sciences.
In attracting qualified personnel through the implementation of the PRO4-HSRW program, a sustainable monitoring measurements are envisioned.
Objectives
The close cooperation of university strategy and human resource development concept ensures the future viability of Rhine-Waal University of Applied Sciences as a scientific institution through this four-stage, innovative model.
The first stage involves the promotion of young scientists in the new International Graduate Academy (InGA). Project-related cooperation via the Tandem Professorship represents the second stage. The third stage is 12+1 Future Professorships; the fourth stage is the creation of Research Focus Professorships. The individual actions are linked in this model, i.e. the 12+1 future professorships and focus professorships are to be seen in combination with graduate funding through InGA and with the tandem professorships.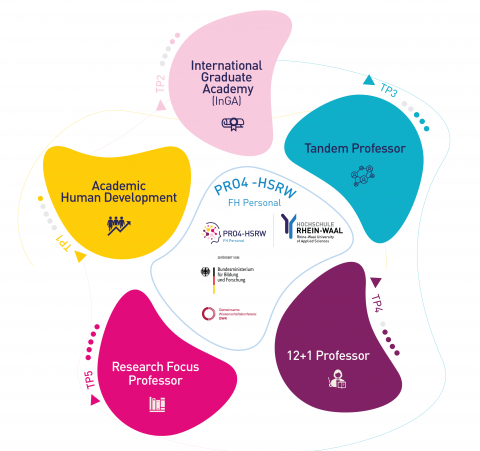 Different aspects such as the digitalisation of teaching, the expansion of regional collaborations, the promotion of diversity and participation, equal-opportunity and family-friendliness will be given a special consideration. The digital transformation of teaching and general digital skills are core components in the implementation of the measures. Overall, this results in a sustainable cultural change for the HSRW within its academic staff. Targeted marketing and recruitment measures will also increase the university's national and international visibility and thus enhance the attractiveness of career paths at HSRW.