Research Officer
Deputy Head and Coordinator Research Management
Centre for Research, Innovation and Transfer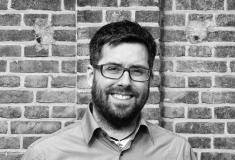 Since June 2016, I have been a research officer at Rhine-Waal University of Applied Sciences and am responsible for research funding at the Centre for Research, Innovation and Transfer. My tasks include designing research strategies, initiating and supporting project proposals and facilitating research at Rhine-Waal University of Applied Sciences.
 
Previously, I worked at the University of Applied Sciences for over five years at the Faculty of Communication and Environment as a research assistant for Project Development & Ambient Intelligent Systems. Many of the tasks I now hold as a research officer I have already taken on in a small way within the faculty. In addition, I successfully coordinated the initial accreditation of all 12 degree programmes.
I have a degree in biology. My main focus during my studies at Heinrich Heine University Düsseldorf was on biochemistry, developmental biology and immunobiology. At the Institute for "Physical Biology" in the Bioinformatics working group, I dealt with the thermodynamic stability of genomic sequences in my diploma thesis.
Parallel to my studies, I was able to gain valuable experience as a part-time care assistant at the Caritas Centre Marienhof at the Caritas Association for the City of Duisburg.
I gained my first professional experience at the Fraunhofer Institute for Microelectronic Circuits and Systems in the research group "Health & Care Solutions" under the direction of Prof. Dr. Gudrun Stockmanns. There I was involved in research and development in the areas of "Ambient Intelligence" and "Ambient Assisted Living". At the associated Fraunhofer inHaus Centre, I was involved in developments of assistance systems that increase the autonomy of senior citizens and disabled people and thus enable them to live longer in their home environment. This research topic continues to occupy me.
Boards, commissions and responsibilities:
Commission for Research and Knowledge Transfer
(July 2012 until today)
Senate member
(March 2020 until today and March 2016 until February 2018)
Quality Manager
 Faculty of Communication and Environment
(Jan. 2011 until May 2016)
Other activities:
Expert in the DIN working group
"Ergonomic aspects of AAL (ambient assisted living) and assistive systems"
DIN Deutsches Institut für Normung e. V.
"Grundsätze der ergonomischen Gestaltung assistiver Systeme", DIN 92419:2020-01
seit Jan. 2014
Expert in the subject areas
Ambient Intelligent and Ambient Assisted Living
CareTRIALOG
since August 2011