Students win S&D Publishing Design Competition
In winter semester 2018/19, students of the Information and Communication Design programme took part in a design competition organised by the S & D publishing house in Geldern. In the scope of the competition they designed a website for one of their magazines. At the award ceremony in Geldern, Managing Director Petra Wresch (right) and her staff as well as lecturer Dr. Alina Huldtgren (2nd from right) were delighted with the winners.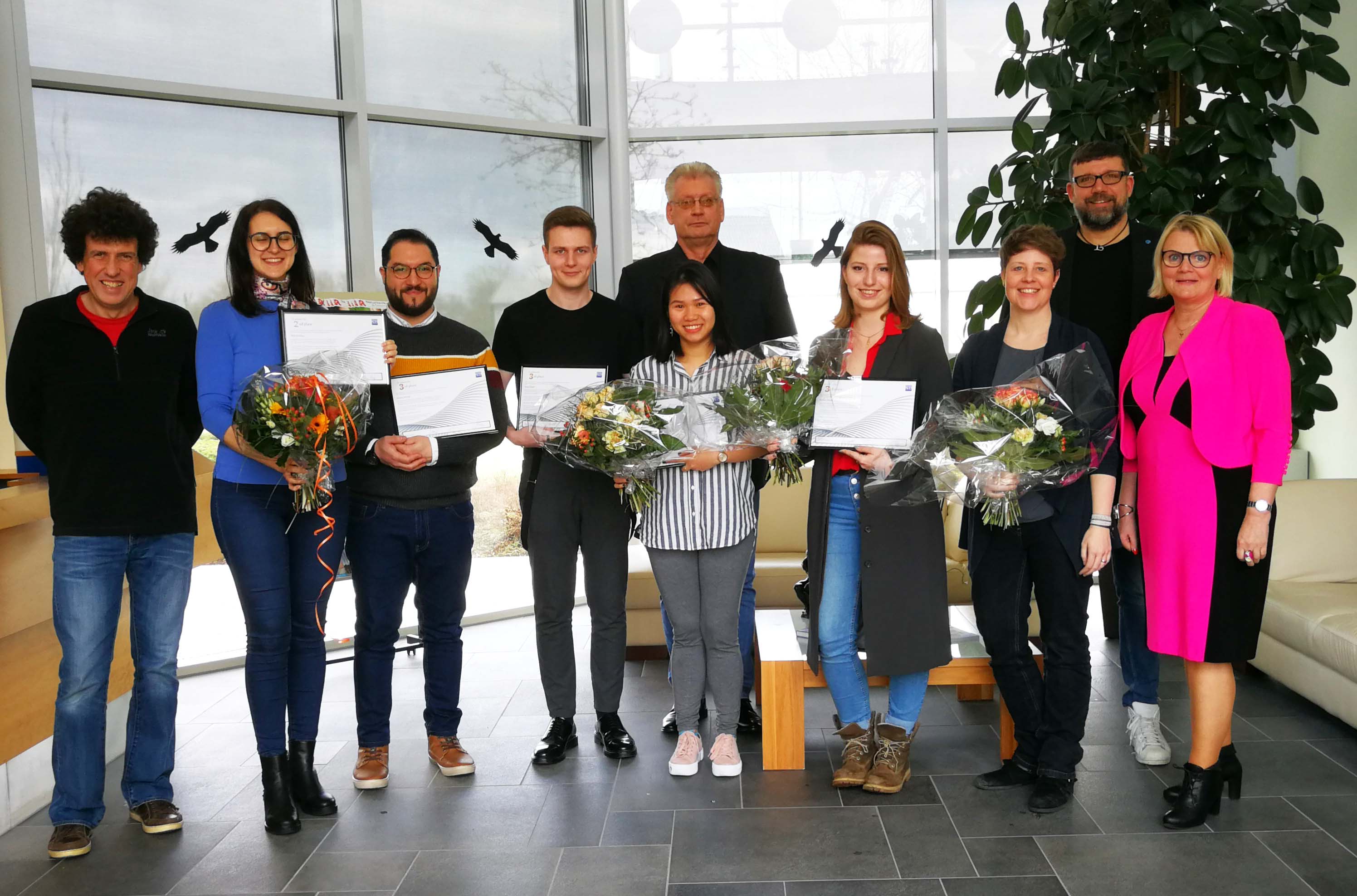 As part of the expansion of its online offering, S&D had organized the competition to initiate the online presence of their magazine "Naturheilkunde und Gesundheit". The aim was not simply to create a digital version of the magazine, but above all to design a digital platform that reaches target groups beyond the print medium and offers additional functions. In order to increase competitiveness, it was the aim to closely relate the communication channels print and digital and to steer pharmacy customers from one medium to the other.
Students of the Information and Communication Design programme voluntarily took part in the competition as part of a lecture on the design of digital interfaces led by Ms Huldtgren. Due to the close cooperation with the publishing house, they managed to do a precise needs and target group analysis. Based on their analysis, the students went through the design process from the conception to the creation of a first draft to the finished web design. The winner, Mai Quyen Ta Ngoc (centre), convinced with an all-round successful website that stood out from other submissions both visually and in terms of functionality. 2nd place went to Olena Kokhan and María Simón Fuente, who were able to convince with their modern design and features. 3rd place went to Hamza Alrajal, Emiel Fabel and Robine Gillen, who scored particularly well with their functionality and target-group-oriented navigation.
The prize money and certificates were handed over on March 8, 2019 at the publishing house in Geldern. The students were given a guided tour of the building and gained interesting insights into the daily work of editors, graphic designers and sales staff as well as into the creation process of a magazine, from the selection of topics to printing and delivery. The students then presented their design proposals to the publishing staff and were able to explore the possibilities for further collaboration.
S&D publishing house was founded in 1992. By order of German owner-led pharmacies, it publishes five different pharmacy customer magazines a month as well as riddle booklets, a magazine on animal health and a magazine called Naturheilkunde und Gesundheit. 
S&D website: https://www.sud-verlag.de/