Students of the Faculty of Communication and Environment promote regional and seasonal shopping
More and more people favour organic and regional food. The Lower Rhine region offers a wide range of locally produced fruits, vegetables and other healthy products. But it is not always easy to get an overview of the regional diversity.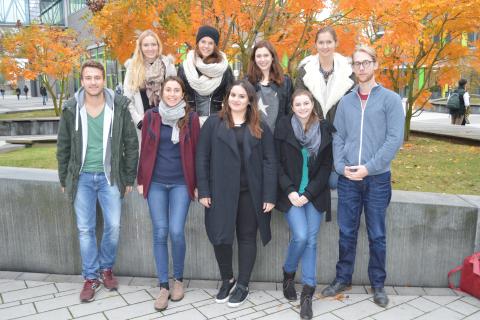 Nine students at the Faculty of Communication and Environment at Rhine-Waal University of Applied Sciences in Kamp-Lintfort have now decided to raise awareness of sustainable shopping and to inform the citizens of Moers about the different products on offer.
The student's project was developed in cooperation with the City of Moers and its Climate Protection Commissioner, Giovanni Rumolo and aims at collecting and publishing information on 'regional shopping'. The results will be available in form of flyers and on the City of Moers website.
Within the framework of this project, students developed a questionnaire on the regional purchasing behaviour of citizens and will carry out a survey in the city center and on the weekly markets of the different districts in Moers within the next few weeks. All data will be handled privately and anonymously. "We hope that the citizens of Moers will participate in our survey, so that we can provide them with tailored information on regional products and businesses," said the students.
If you have any questions or suggestions, please contact Prof. Dr Lud, Supervising Professor of Rhine-Waal University (daniela.lud@hochschule-rhein-waal.de) or Giovanni Rumolo, Climate Protection Commissioner of the City of Moers (giovanni.rumolo@moers.de).