"Self Studies" - A pop-up exhibition in Kleve
As part of an "Experimental Self Portrait" project supervised by lecturer Kirsten Becken, Information and Communication Design students of the Faculty of Communication and Environment produced more than 30 photographic works, which were now presented to a broad audience in the vacancy of the former Lust Café in Kleve.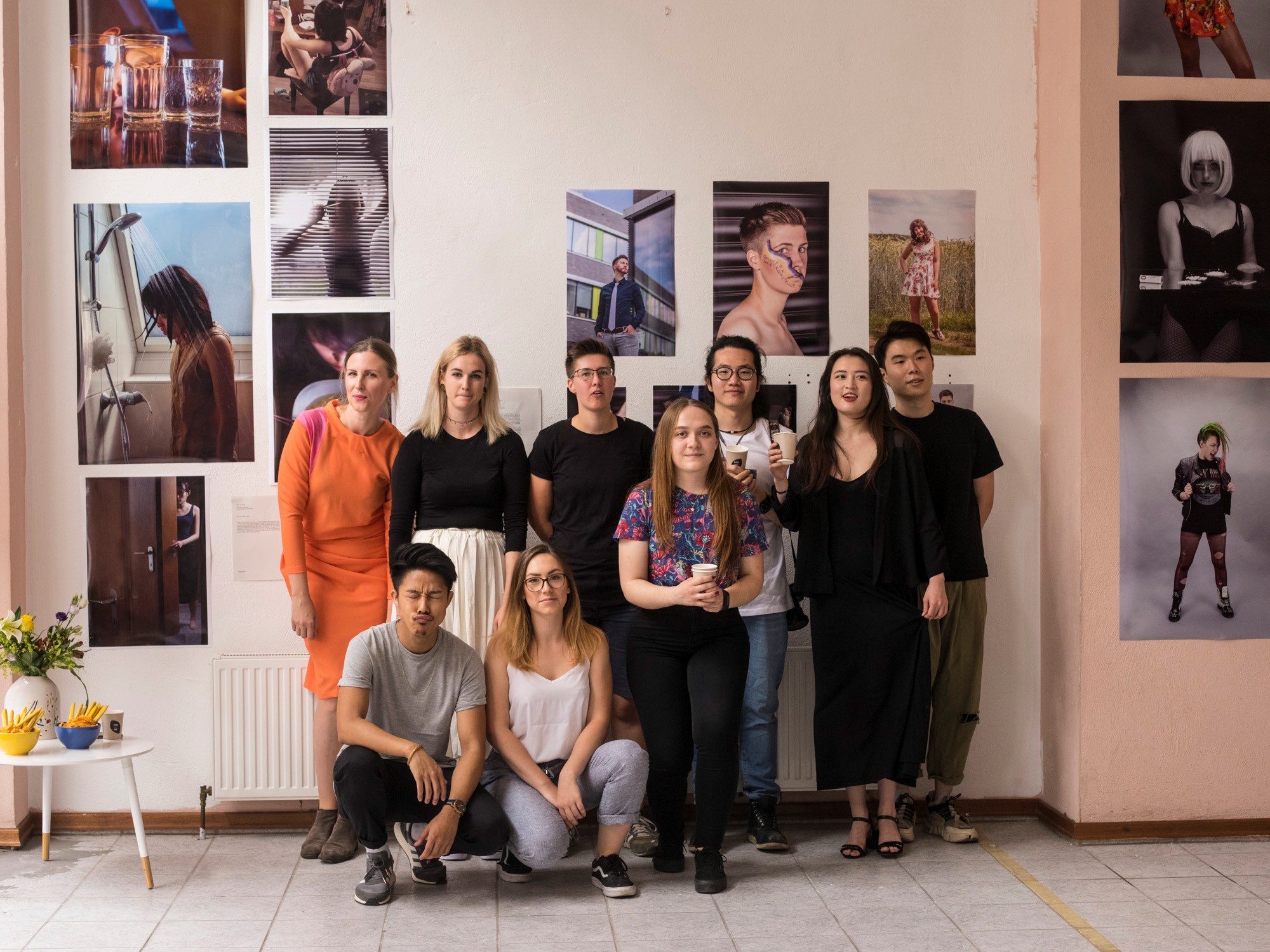 Fltr: Lecturer Kirsten Becken, Emily Bovens, Christiane Stark, Alla Magdina, Shun-Him Yu, Aylin Zhumabayeva, Kefan Weng,Vincent To, Pia Schwaak
The group exhibition on the subject of "Self Studies" showed a wide variety of photographs in which the ten students staged themselves. They presented their very different and exciting concepts in series of three to ten photos. Shenfeng Jia, for example, thematized her extremely small apartment, while Mingjing Tsai staged surreal scenes that literally drew the observer into her life. Emily Bovens created a light painting with the help of other students, and Kefan Weng hid so-called Fotofix passport photos which he had individually redesigned in the exhibition room.
The special kind of the final presentation, which did not take place on campus but was accessible to a broad public, was a good opportunity for students to collect first references.
Kirsten Becken emphasizes: "Such an exhibition is a great opportunity to fill the increasingly frequent vacancies in the city. Creative concepts for young and old, which enliven the cityscape especially in the summer months, are important for Kleve. After all, there is a huge breeding ground for alternative programmes. You just have to offer something and start. Maybe we managed to inspire!" The artist and photographer was born in Klever, studied at Folkwang Hochschule Essen and has recently moved back to her old home town.