Second conference on Digital Production has been a great success
The second conference on Digital Production on the Kamp-Lintfort Campus of Rhine-Waal University took place on October 10, 2018. Experts from both research and industry provided interesting and interdisciplinary insight into the highly relevant topic of digital production, while examining a broad range of important questions.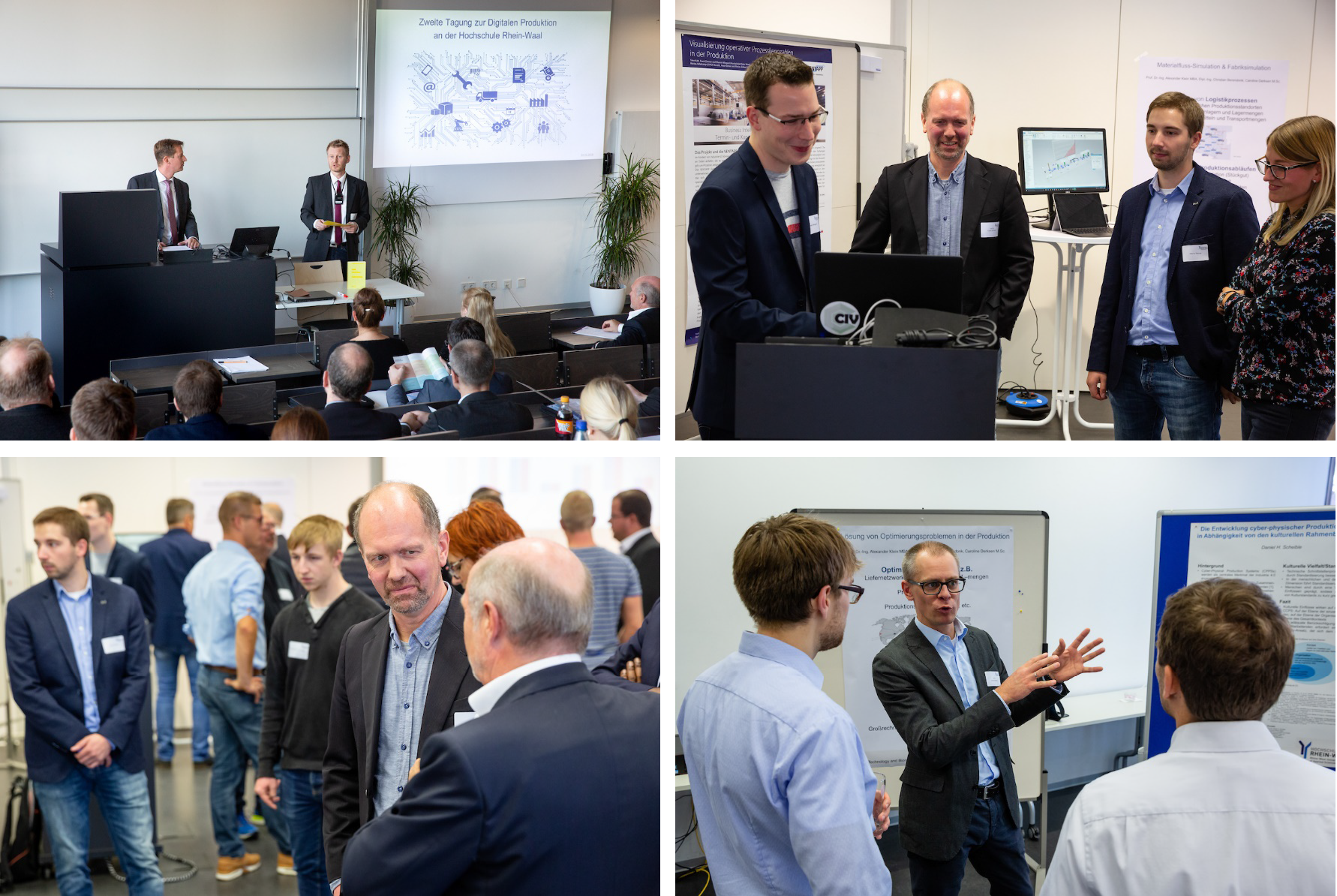 The Digital Manufacturing Conference 2018 was led by Prof Dr Torsten Niechoj (Professor of Economics and Political Science, Faculty of Communication and Environment) and Prof Dr-Ing Alexander Klein MBA (Professor of Integrated Operations Management, Faculty of Technology and Bionics).
We would like to thank Förderverein Campus Camp-Lintfort as well as Förderverein Hochschule Rhein-Waal e.V. for their generous support.
Presentations
Digitale Produktion: Was ist das, was soll das, wie geht das?
Prof. Dr.-Ing. Alexander Klein MBA | Hochschule Rhein-Waal
Die digitale Fabrik – Welche Auswirkungen die Digitalisierung auf Strategie, Mitarbeiter, Prozesse und Technologien hat
Harald Geimer & Farboud Cheraghi | PwC Strategy& (Germany) GmbH
Nutzenversprechen digitaler Technologien in den Wertschöpfungsketten industrieller Unternehmen
Prof .Dr. Christoph Haag | Technische Hochschule Köln
Industrie 4.0 - Mitbestimmen und Mitgestalten
Prof. Dr. Manfred Wannöffel, Dominik Lins, Marvin Schäfer | Ruhr Universität Bochum
Jenseits von 4.0 – Überlegungen zur digitalen und sozialen Marktwirtschaft des 21. Jahrhunderts
Prof. Dr. Andreas Syska | Hochschule Niederrhein
Produktivitätsanstieg durch digitale Produktion?
Prof. Dr. Torsten Niechoj | Hochschule Rhein-Waal
Vertikale Sicherheitsherausforderung in der digitalen Produktion
Prof. Dr.-Ing. Ulrich Greveler | Hochschule Rhein-Waal
Wandel eines mittelständischen Unternehmens in Zeiten von Industrie 4.0
Dr.-Ing. Stephan Witt MBA | Kampf Schneid- und Wickeltechnik GmbH & Co. KG
Edge-Computing und Secure Audit Trails beim Feinschneiden
Dr.-Ing. Dipl.Wirt.Ing. Daniel Trauth | senseering GmbH & WZL der RWTH Aachen
Neueste Entwicklungen und Funktionalitäten moderner ERP- und MES-Systeme
Dipl.-Ing. Wolfgang Mattern | Mattern Consult
Posters
Visualisierung operativer Prozesskennzahlen in der Produktion
Prof. Dr. Timo Kahl, Prof. Dr. Frank Zimmer, Marwin Wiegard | Hochschule Rhein-Waal
Marius Haferkamp | EVACO GmbH
Florian Zirbes | VENTAPP GmbH
Reinforcement Learning auf dem Weg in die Industrie
Marco Pleines, Prof. Dr. Timo Kahl, Prof. Dr. Frank Zimmer | Hochschule Rhein-Waal
Die Entwicklung cyber-physischer Produktionssysteme in Abhängigkeit von den kulturellen Rahmenbedingungen
Prof. Dr. Daniel Scheible | Hochschule Rhein-Waal
Die Digitalisierung des internationalen Handels. Transaktionskostensenkung durch ein blockchainbasiertes Akkreditiv
Anatolii Vovk | SAP SE und Hochschule Rhein-Waal
Prof. Dr. Torsten Niechoj | Hochschule Rhein-Waal
Fabriksimulation zur Identifikation der bestmöglichen Fabrikkonfiguration
Prof. Dr. Ing. Alexander Klein MBA, Dipl.-Ing. Christian Berendonk | Hochschule Rhein-Waal
Comparative Investigation of AlSi12 from Classic and 3D-Printing Production Route
Dr. Thomas F. Krenzel, Dimitar Michev, B.Sc., Prof. Dr.-Ing. Raimund Sicking | Hochschule Rhein-Waal