Lectures open to guest auditors
Rhine-Waal University of Applied Sciences offers a number of opportunities to people who have fled war or political persecution and are registered as refugees in Germany.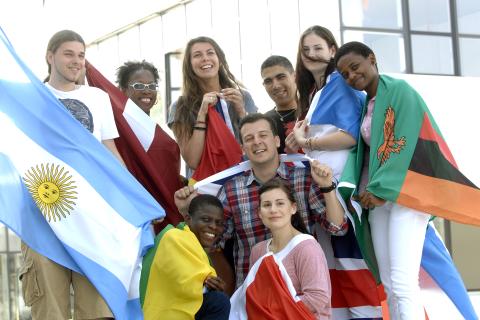 Did you study at university in your home country?
Registered refugees can apply to become 'guest auditors' at our University for free. As a guest auditor – or 'Gasthörer' – you can take part in select lectures taught in German or English. This gives you the chance to expand your knowledge and skills to new areas. Please find a list of our lectures for guest auditors on the Kamp-Lintfort campus here or in the download section.
Our guest auditor programme is not restricted by age, academic background or employment status. As proof of your current refugee status, please attach a copy of your temporary residency permit to your application and send both to our Student Advisory Service.
Would you like to learn German?
Our Language Centre offers several German courses that registered refugees can attend for free. For more information on how to join a language course, please contact our Language Centre.
Interested in earning a degree with us?
To become a regular student at Rhine-Waal University of Applied Sciences you must meet certain requirements. For individual advice, please contact our Student Advisory Service.
Location of our Kamp-Lintfort Campus:
Friedrich-Heinrich-Allee 25, 47475 Kamp-Lintfort
Germany