Internationalisation done differently – students wrap up online semester abroad
Last winter semester saw Rhine-Waal University's first ever online semester abroad. Destinations were various partner universities throughout Europe.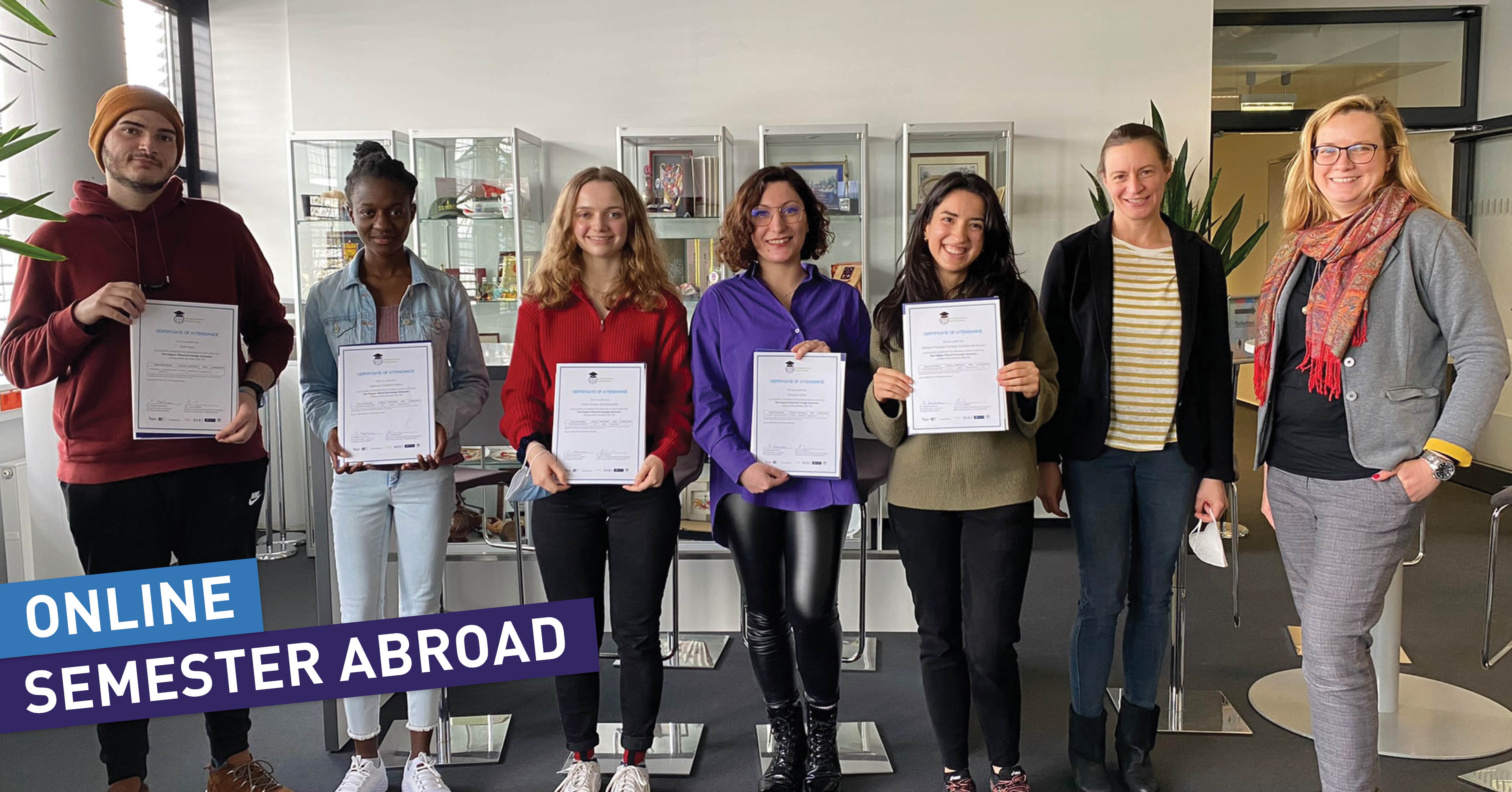 This past winter semester offered HSRW students the first ever opportunity to participate in an online exchange programme, which was coordinated with five European partners: 
The Hague University of Applied Sciences (THUAS), the Netherlands
Tampere University of Applied Sciences (TAMK), Finland
Universidad Francisco de Vitoria (UFV), Spain
Masaryk University (MUNI), Czech Republic
University of Cagliari (UNICA), Italy
A total of five modules were offered: Intercultural Management, New Media and Entertainment, Functional Facility Design, Avenues to Circular Economy, Participation, Collaboration and Teamwork, and the Future of Europe.
A total of 15 students from all four faculties of Rhine-Waal University of Applied Sciences successfully completed their exchange. They were recently awarded their certificate of completion by Professor Dr Tatiana Zimenkova, Vice-President for Internationalisation and Diversity, and Dr Maike Kaufmann, Head of Projects in the Centre for Internationalisation and Languages (ZIS), on 7 April 2022.
Students needed to choose at least one of the offered modules and were able to study at more than one of the partner universities in Finland, Spain, Italy, the Netherlands and the Czech Republic simultaneously. This is what distinguishes the project from the usual bilateral exchange semester. "Even before the pandemic we had been doing a lot of pioneering work with online exchanges as part of our internationalisation strategy with partner universities. In the future, we hope that these opportunities will help us reach students who are reluctant or otherwise unable to go abroad for their exchange semester, for instance due to personal reasons. But we also want to give our international students another possibility to gather more international experience in general," said Kaufmann. 
One of the largest challenges was coordinating a shared group of modules across multiple international partner universities. "Bilateral exchanges for students, teachers and staff between universities already complex, requiring a lot of time and energy due to the many legal, administrative, practical and intercultural pitfalls. Multilateral projects have these same complexities, but are much more dynamic in nature. Each country, each partner university has its own teaching methods, administrative processes and organisational structures, all of which need to be coordinated and aligned to work. Our students also share some of the burden, as this added complexity means more administrative things for them to do. In return, however, students benefit from a very unique international perspective that complements their studies," said  Kaufmann.
Feedback from students reflected similar notions. For many, the extra administrative work was a particular hurdle. Some, for example, had to register for multiple learning platforms in order to work with their chosen universities.
"Despite early problems registering with the partner universities and accessing courses, the experience was definitely worth it in the end," said Celine Balle, student at HSRW. "My degree programme International Relations also offers a module on Intercultural Management, but the module offered by our partner university in Spain was structured very differently and offered other perspectives and approaches to the topic. We all found it very interesting."
For another student, Pepo Tedi, the module Collaboration and Teamwork was particularly important: "I'm studying engineering, so it was really important for me to learn more about collaboration and teamwork. These are useful skills that I'll need for future projects in my field. The course was a chance for me to gather new ideas and experience."