General Consul of India visits HSRW to discuss collaborative opportunities
General Consul of India, Dr Amit Telang, recently visited Rhine-Waal University of Applied Sciences in Kleve on 8 November 2021. He met with Professor Dr Tatiana Zimenkova, Vice-President for Internationalisation and Diversity, and Dr Joost Kleuters, head of the International Center, to discuss collaborative opportunities between HSRW and the consulate general of India in Frankfurt. Also on the agenda: a meet and greet with students from India.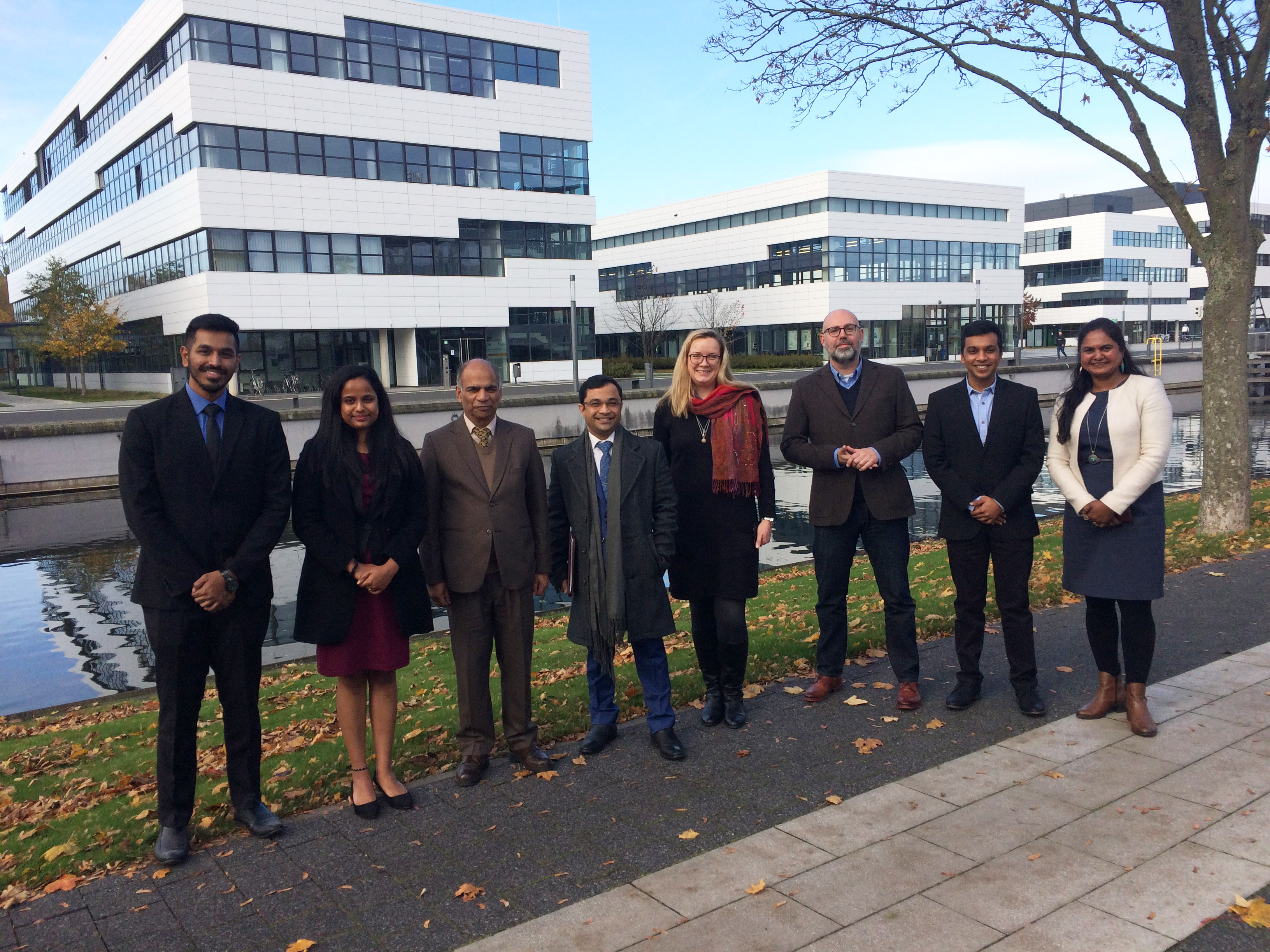 During the visit, Dr Telang toured the Kleve Campus and learned more about the degree programmes offered by Rhine-Waal University of Applied Sciences. But the focus of the discussion was on students from India currently studying at HSRW: with around 500 students in total, they form the University's single largest group of international students by nationality. The consulate feels obligated to support these students with visa-related questions in Germany, help inform them about important cultural differences between the two countries, and lend them a helping hand in getting started with a career in Germany. During the pandemic in particular, the consulate and HSRW both worked very hard to help students deal with the suddenly more difficult and complicated student visa process. Rounding out the meeting was a discussion on collaborative opportunities with partner universities in India. The General Consul graciously offered to lend his support to HSRW on this front.  
From left to right: Tarun Ravindra (student, Mechanical Engineering, M.Sc.), Vandana (student, Economics and Finance M.Sc.), Anuj Gupta (Consul for Political Affairs and Education), General Consul Dr Amit Telang, Professor Dr Tatiana Zimenkova (Vice-President for Internationalisation and Diversity at HSRW), Dr Joost Kleuters (head of International Center of HSRW), Arun Ramaswamy (student, Mechanical Engineering, M.Sc.), Mridula Singh (Public Relations Officer of the consulate)