Klever Birne
Kleve's new sustainability award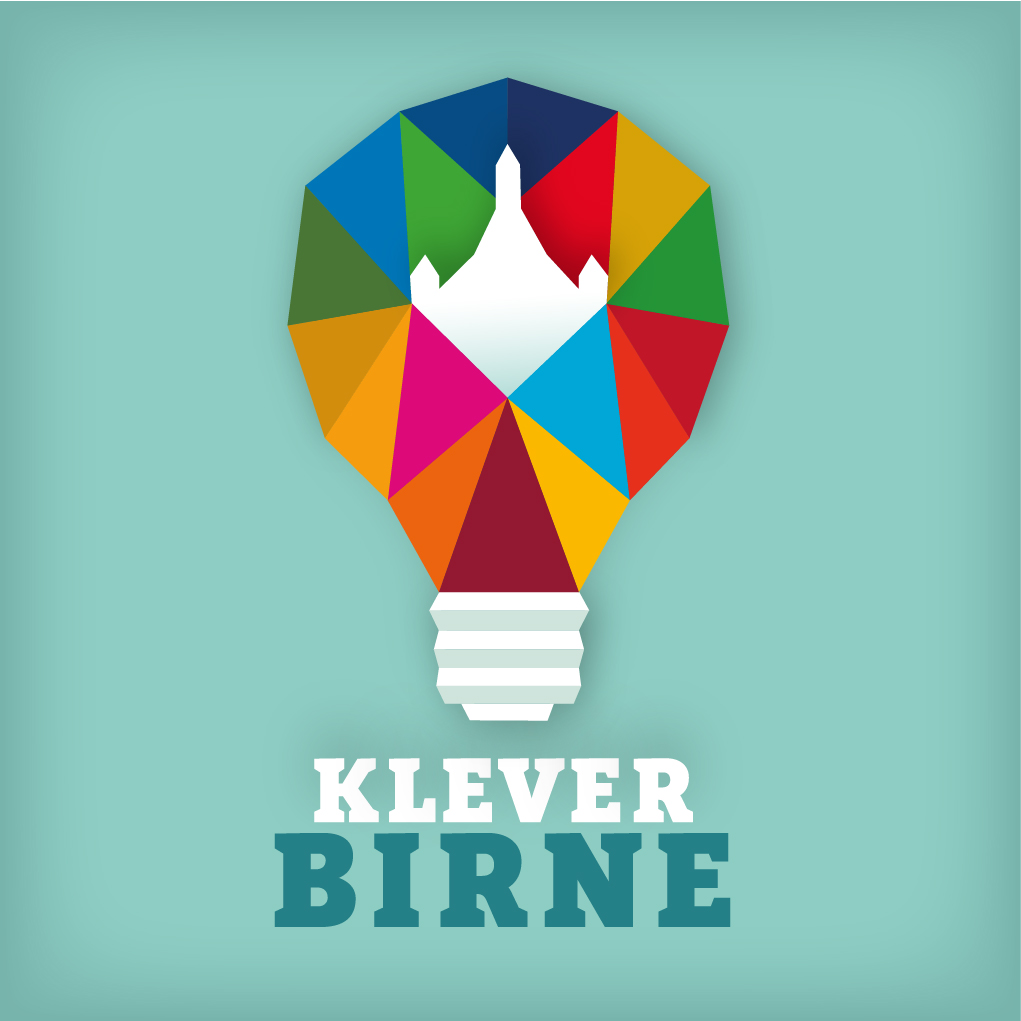 Let's make the world a more sustainable place – together!
Are you working on a new project in class, at work or in your free time that could help make Kleve a more sustainable city? Does sustainability interest you and motivate you to make Kleve better? Could you use some help with raising awareness for your project and embedding it into the Kleve community? And does your idea align with one or more of the 17 Sustainability Development Goals (SDGs) of the United Nations?
Then consider applying to Kleve's new sustainability competition: Klever Birne! Kleve Birne is a joint project led by Rhine-Waal University of Applied Sciences and the city of Kleve.
Both one-off ideas and long-term projects dedicated to sustainability are welcome!
Eligibility
You're eligible to apply to the Klever Birne competition if your idea/project meets the following requirements:
It has to do with at least one of the 17 Sustainable Development Goals of the UN
It'll be implemented in Kleve
It's in the active planning or implementation phase
The prize money will be used to further develop the idea/project
Everyone who sees themselves as contributing to a more sustainable future is welcome to apply, whether individuals or groups, students, education organisations, public organisations (i.e. schools, kindergartens, libraries etc.), businesses, clubs and associations, startups and other institutions.
Application process
Participating in the Klever Birne competition is as easy as submitting the official entry form. Before submitting a form, please be sure to read and understand the rules and requirements as well! Two pictures per idea can also be submitted together with your entry form.
The deadline for all submissions is 4 August 2023.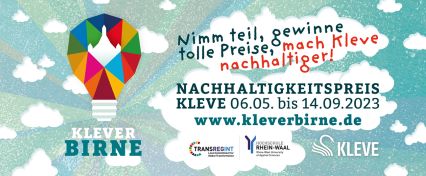 Competition process
First, the 12 best ideas will be selected from among all submissions. Contestants can then present these ideas to an expert jury and an audience during Make an Impact! Day on 14 September 2023. The jury will then select the three best ideas and the audience will vote on their favourite as well.
Judging criteria
Impact: Your idea/project will contribute towards Kleve's sustainable development (whether social, ecological or economic) and can serve as an inspiration for others.
Feasibility: Implementing your idea/project in the city of Kleve should be both feasible and practical. It should also represent a meaningful contribution towards specific SDGs of the UN.
Innovativeness: Your idea/project should be innovative: something missing in Kleve. Original ideas (in terms of both concept and implementation) will be given special consideration.
Prizes
1st place: 2,000 EUR
2nd place: 1, 000 EUR
3rd place: 500 EUR
All three winners will also receive an individual coaching package and a bonus gift.
Audience award: The winner of the audience award will also receive a coaching package and have a tree planted in their honour.
All participants in Make an Impact! Day will receive an idea book, pen and certificate.
Additional events for contestants
If you're interested in applying, we invite you to attend a general info session and Q&A at Rhine-Waal University of Applied Sciences on 31 May 2023 at 18:00.
Contestants selected to present their ideas on Make an Impact! Day can also take part in a free online workshop on 23 August 2023 to help them prepare.
Goal of the Klever Birne
The city of Kleve and Rhine-Waal University of Applied Sciences are dedicated to ecological, social and economic sustainability and show it by partnering together in 2023 to launch a new sustainability award for the city.
The Klever Birne Competition serves to raise awareness not only for the UN Sustainability Development Goals at the local and global levels, but also for HSRW's project TransRegINT, which explores innovative and sustainable ways to shape the Lower Rhine region, and for the climate protection measures implemented by the city of Kleve. But more than that, the competition also represents a forum for brainstorming new sustainability ideas together with the public.