Welcoming many new faces to campus: HSRW winter semester 2023-24 begins
The lecture period for winter semester 2023-24 began on 25 September 2023 and with it, Rhine-Waal University of Applied Sciences (HSRW) welcomed 873 new students in Kleve and Kamp-Lintfort for the annual first-semester welcome and Freshers' Week event.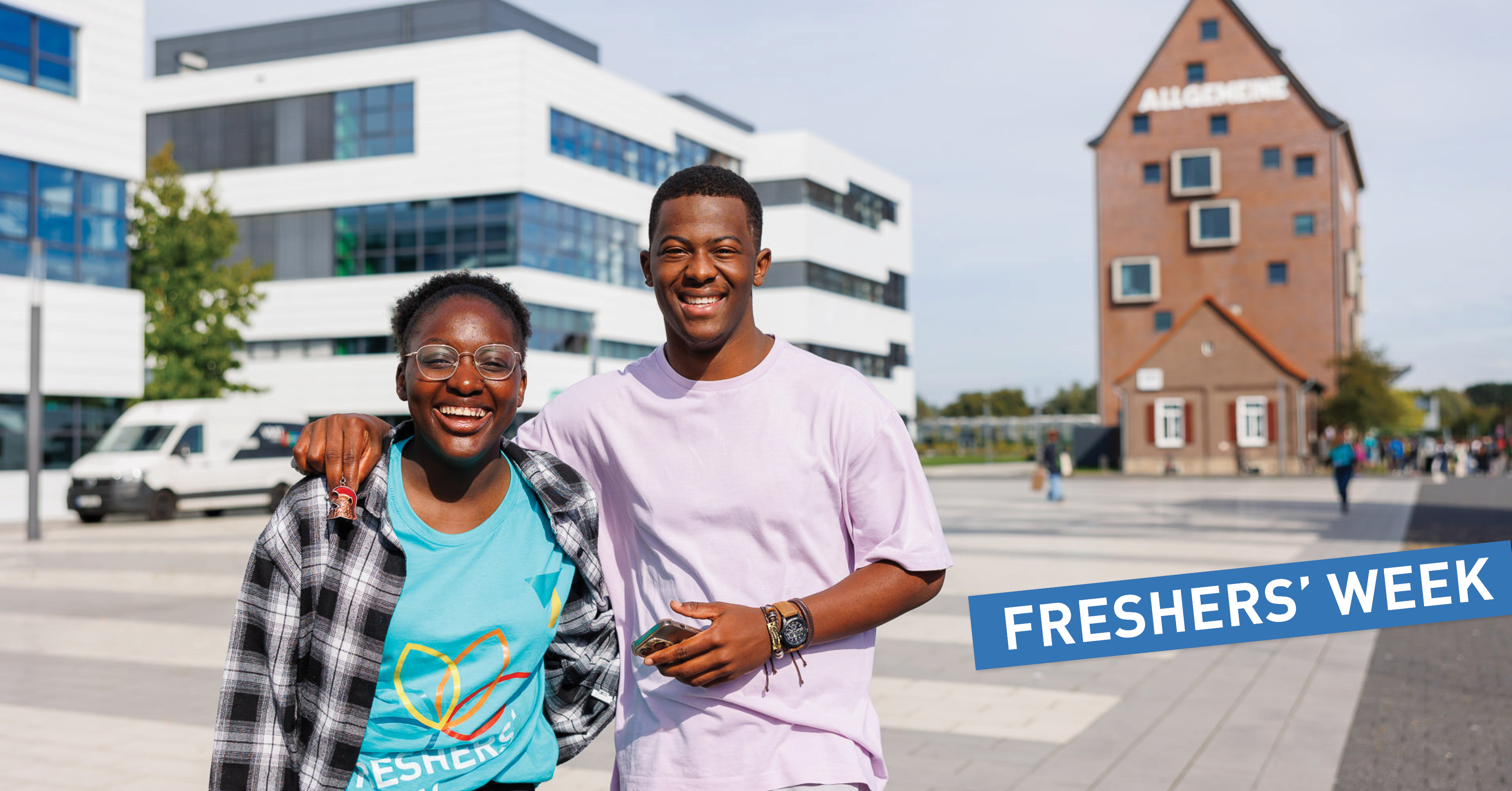 "I'm pleased to see so many new faces on campus," said Professor Dr Oliver Locker-Grütjen in his welcoming address in Kamp-Lintfort. He continued: "Here you'll find an active, diverse and open community within an innovative and supportive atmosphere." Professor Dr Tatiana Zimenkova welcomed Kleve's new students with some valuable insight:  "You aren't the only ones excited to meet your fellow students, teachers and all of HSRW. We too are excited to meet you all, our new students from around the world. We want to learn more about your backgrounds and life experiences. We are curious to hear your perspectives and the fresh ideas you bring to campus, our teaching and our research," said the Vice-President for International Affairs and Diversity.
Professor Dr Christoph Landscheidt, Mayor of Kamp-Lintfort, wished the city's new students a great start to their successful studies. He described HSRW as an established, but still young university, stressing the benefits of studying at a smaller university: "People know your name at Rhine-Waal University; you're not a face in the crowd. And this is also true for Kamp-Lintfort."
Wolfang Gebing, Mayor of Kleve, welcomed the city's new students in a video message. "You all have taken a first step towards your own future by pursuing a degree at HSRW. This decision will lay the cornerstone for your future career," said Gebing. He noted, "Kleve is a charming, open and – thanks in large part to the students themselves – young city, too."
Other areas of HSRW introduced themselves as well, for example the Student Advisory Service, University Music and University Sports, as well as representatives of the General Student Committee (AStA). AStA's newly elected chairperson, Sharon Spievak, who studies International Relations, B.A. at the Faculty of Society and Economics in Kleve, encouraged new students to become active members of the community and reminded them of their opportunity to help shape HSRW by joining its governing bodies: "Join a student organisation and contribute to decision-making processes. AStA can help ensure that your voice is heard," said Spievak.
Both the first-semester welcome and subsequent Freshers' Week filled the campus with life: Music Nights in Kleve and Kamp-Lintfort, the Freshers' Market, guided tours on campus and Kleve/Kamp-Lintfort, numerous events in the faculties, AStA events and sporting events ensured each day was filled with laughter and good spirits among HSRW's newest faces. The show "HSRW Got Talent" offered a front-row glimpse of all the talented performers and artists in the HSRW community, and Homecoming Cup, the traditional concluding event to Freshers' Week, saw 13 teams of students compete.
Enrolment statistics
Effective 22 September 2023, a total of 873 new students had enrolled at HSRW: 545 in Kleve and 328 in Kamp-Lintfort. At the same time last year, a total of 948 students had enrolled, with 378 of them studying in Kamp-Lintfort. This slight decrease in enrolment is primarily due to the fact that restricted admissions (N.C.) were implemented for two degree programmes in Kamp-Lintfort this past year: Infotronic Systems Engineering, B.Sc. and Mobility and Logistics, B.Sc.
Based on the experiences of the previous years, HSRW expects additional enrolments to occur between 22 September and the final deadline. The current estimate of approximately 1,300 new enrolments is close to the figures for the previous winter semester 2022-23 and thus pre-pandemic numbers as well. Generally, exact enrolment figures aren't available until November/December at the earliest.
Student housing situation in Kleve and Wesel counties
The housing situation for students in Kleve and Wesel counties remains tense and is further compounded by a lack of suitable housing in nearby university cities in the Netherlands like Nijmegen, which has pushed students there to seek accommodation in border regions like Kleve.
HSRW's Welcome Centre receives an average of five to ten requests for assistance (but sometimes more) each day from students looking for housing. In response, the Welcome Centre connects students to local property owners with available rooms, and is usually able to help students find accommodation within two to four weeks.
Though not every new student has found a place to stay yet, Nele Decker from the Welcome Centre, is happy whenever the team is able to help one. "A local woman renting a flat to two international students for the first time recently contacted me because she was so excited to welcome them and learn more about them. I think that's so amazing, not only her attitude, but also her enthusiasm for the diversity that HSRW brings to Kleve and Kamp-Lintfort," said Decker.
If you have an available flat or room you'd like to rent to students, you can still contact the Welcome Centre at welcome-centre@hochschule-rhein-waal.de.