VDI ehrt Studierende der Fakultät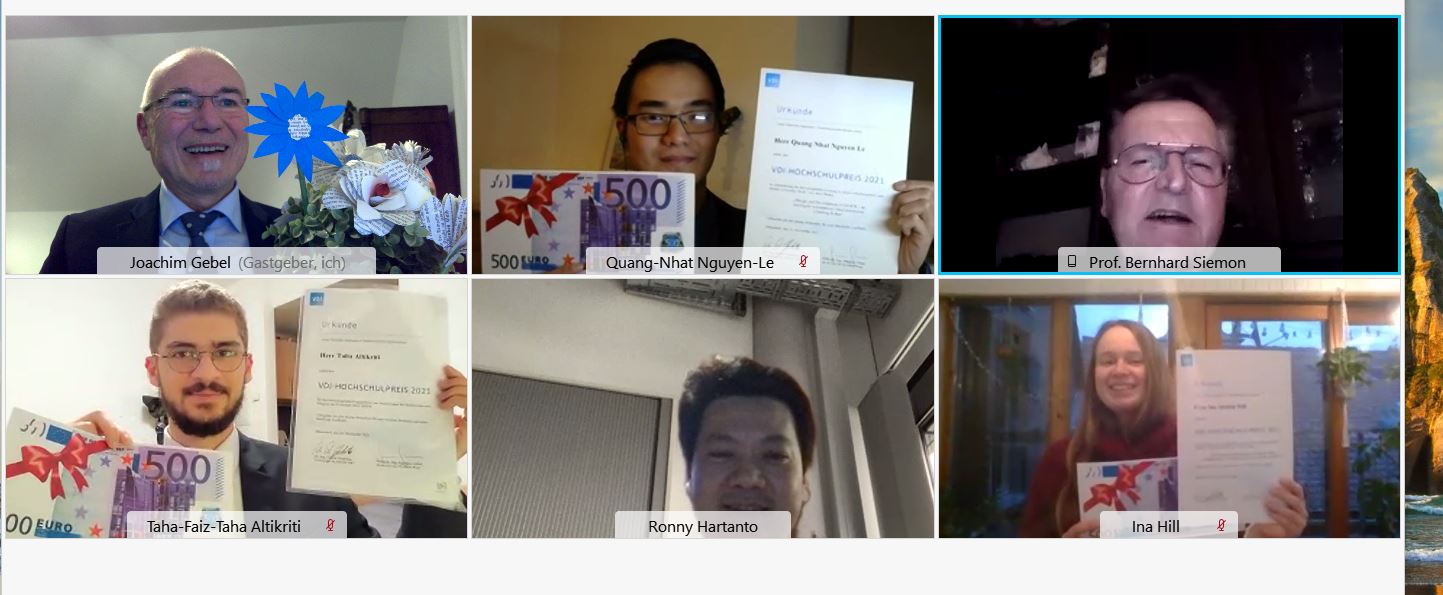 Der Niederrheinische Bezirksverein des Vereins Deutscher Ingenieure (VDI) hat drei Studierende der Fakultät für ihre besonderen Leistungen ausgezeichnet.
Der Preis für die beste Bachelorarbeit ging an Ina-Jasmin Hill, Absolventin des Studiengangs Biomaterials Science, für ihre Arbeit über "Microstructural and Mechanical Characterisation of Biodegradable FeMn-based Alloys for Implant Applications", vorgeschlagen wurde sie von Prof. Christopf Heß. Quang Nhat Nguyen Le wurde für seine Masterarbeit "Design and Development of IAOCR – an Intelligent Autonomous Omni-directional Climbing Robot" ausgezeichnet (vorgeschlagen von Prof. Ronny Hartanto), mit der er sein Masterstudium in Mechanical Engineering abgeschlossen hat.
Taha Altikriti bekam einen Preis für sein herausragendes Engagement für seine Mitstudierenden und als Mitglied des Vorstands des IEEE HSRW (Institute of Electrical and Electronics Engineering), vorgeschlagen hatte ihn seine Kommilitonin Loredana Sturza.
Die Jury, bestehend aus Prof. Bernhard Siemon von der Hochschule Düsseldorf, Prof. Hans-Jürgen Helwig von der Hochschule Niederrhein und Prof. Joachim Gebel von der HSRW, verlieh die Preise Ende des vergangenen Jahres in einer virtuellen Zeremonie.