Underwater champions: HSRW dominates submarine competition in England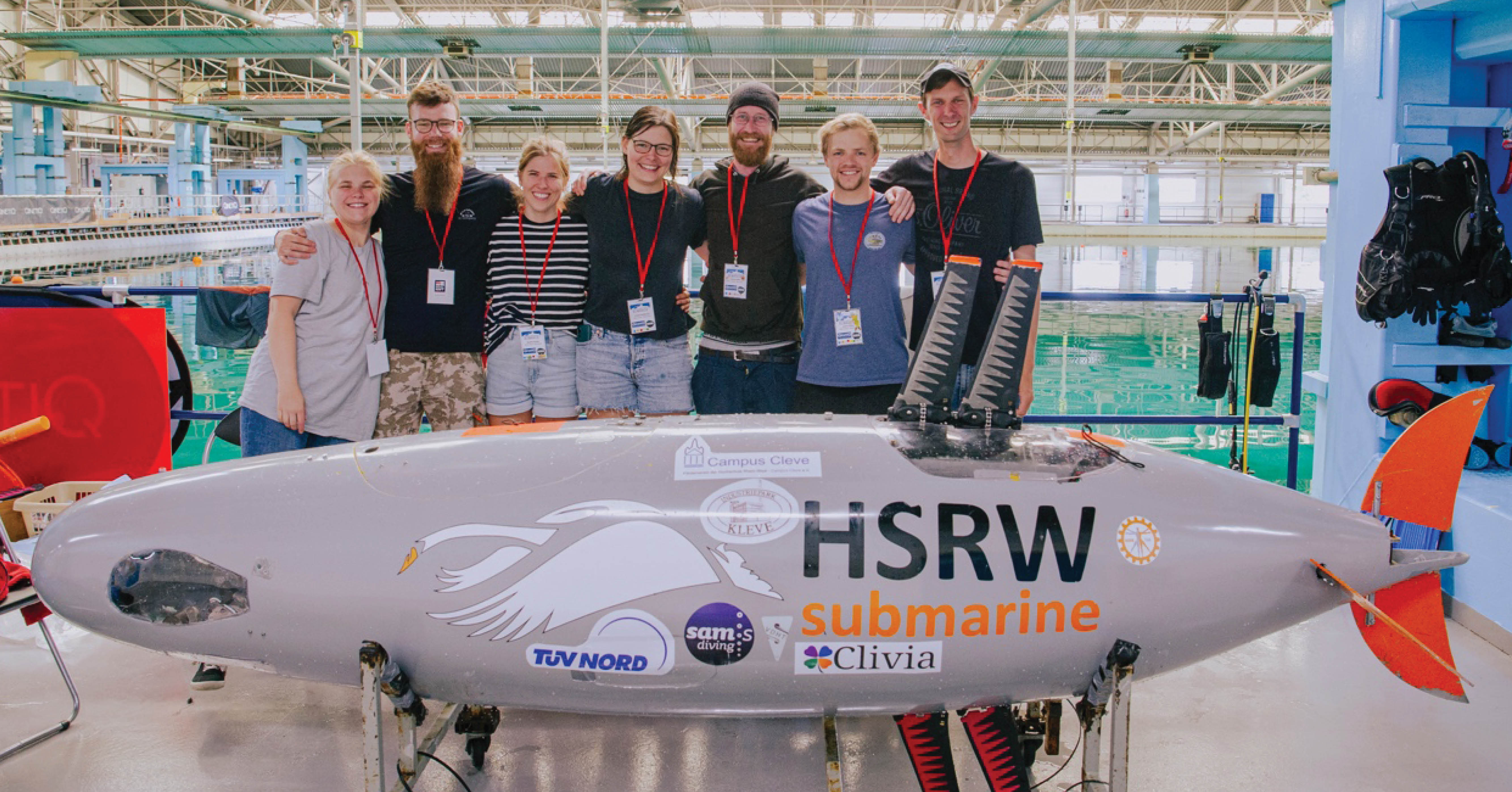 Enjoying their success: the Submarine Team of Rhine-Waal University of Applied Sciences (f.l.t.r.): Sophia Döring, Hannes Jaschinski, Martha Grupp, Frauke Waßmuth, Aaron Hinkle, Joshua Biehn and Lysander Trapp © Rhine-Waal University of Applied Sciences
Frauke Waßmuth, postgraduate student at Rhine-Waal University of Applied Sciences (Bionics M.Sc.) and captain of the HSRW Submarine Team, was called up to the stage quite a few times during the awards ceremony for the European International Submarine Racies in Gosport, England. Six times, in fact, each to collect a new award on behalf of her team. The HSRW Submarine Team from Kleve took first place in nearly every category of the competition, including the highly coveted European International Submarine Races Trophy for overall performance.
The 7-person team dominated the multiday competition with their submarine Rivershark. Captain Frauke Waßmuth piloted the submarine to victory in three out of four slalom races and took gold in the 500m obstacle course. The team also took home the design prize for Rivershark's sustainability concept.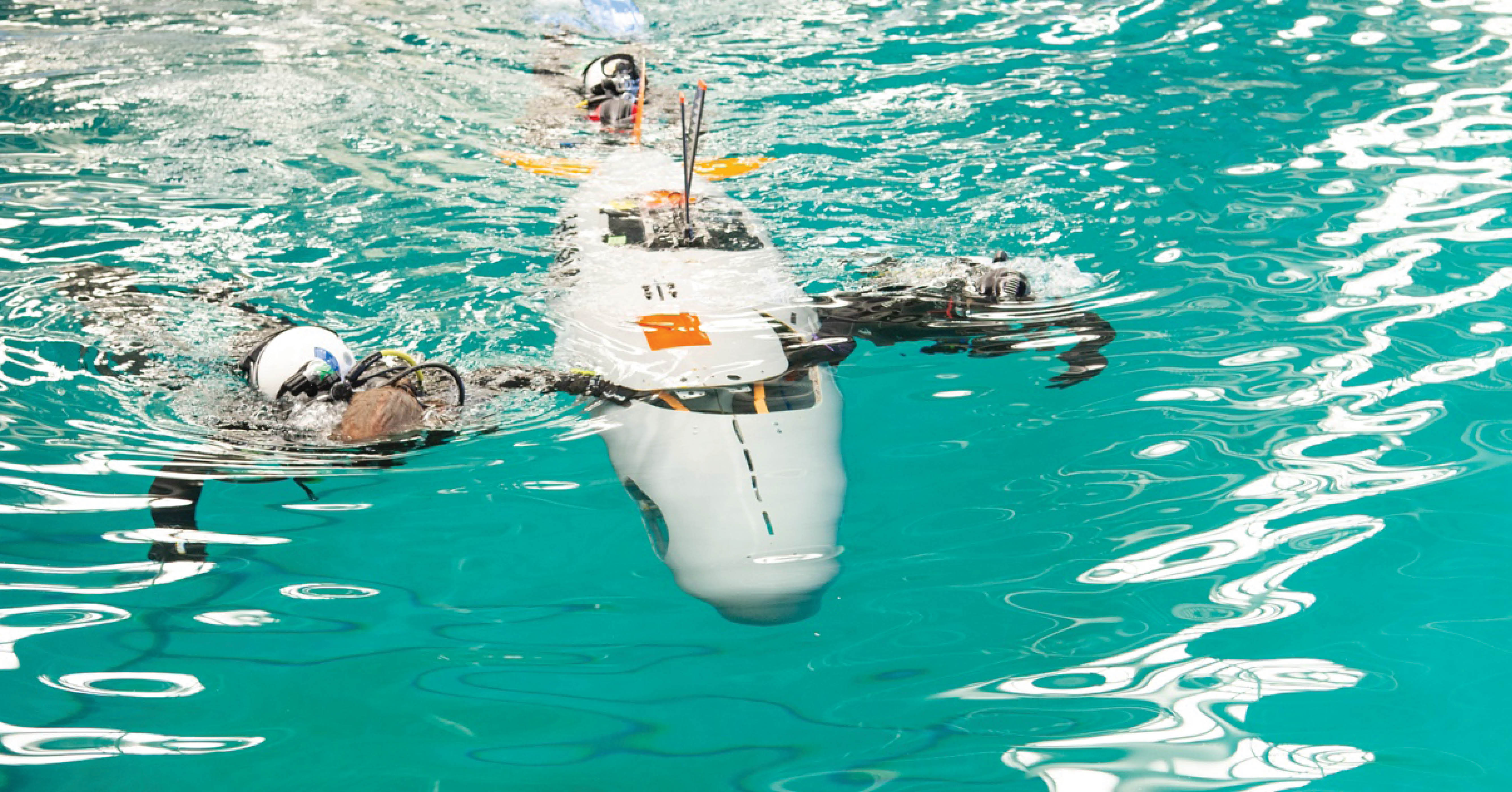 HSRW's submarine Rivershark during the "agility race", a complex underwater obstacle course. © Rhine-Waal University of Applied Sciences
The submarine competition is held every two years in Haslar Marine Technology Park in Gosport, England, home to Europe's largest freshwater basin. Teams of students from universities around the world compete to design, build and race their pedal-driven submarines to victory. During the race, the submarines are completely flooded, meaning pilots must squeeze into tight cockpits in scuba gear to propel and steer their vessels. Pilots with claustrophobia need not apply! Crucial to a good and fast submarine is designing propulsion system that uses a pilot's strength output as effectively as possible.
But before they're even allowed on the starting line, teams must first develop and demonstrate a convincing safety concept for their submarine.  This year's competition welcomed nine teams, hailing from the UK, Canada, Taiwan, the US and more. Before the competition, each team had to show that their safety systems (including flanking support divers) worked not just in theory, but in practice as well. Rivershark and four other submarines were given the greenlight right away: teams who failed the initial safety test were given a brief window to fix glaring issues. In the end, all nine teams managed to pass the test and compete.
Background
Rivershark, HSRW's submarine, has already competed in six international submarine competitions in the UK, France and the US. As part of its sustainability concept, the HSRW Submarine Team recycles Rivershark's hull and rebuilds the propulsion and steering system again for each competition. After a brief summer break, the team will begin work on Rivershark's next iteration. At the same time, a few team members will also wrap up their scuba certification so that they can provide underwater support at the next competition.
The 2022 HSRW Submarine Team consists of: Frauke Waßmuth (captain and pilot), Joshua Biehn (pilot), Sophia Döring, Martha Grupp, Lysander Trapp, Aaron Hinkle, Hannes Jaschinski, Karthick Onnu (all of whom competed in Gosport this year), as well as Ernest Malov, Marcello Tania, Ben Vafis, Leen Nijim and Manav Thakkar, who provided valuable planning and construction support for Rivershark 2022.