"Ukrainians want autonomy and to be free from Russia": A review of the conference "Gender, Civil Society, and Women's Movements in the Context of Russia's War on Ukraine"
As Russia's war of aggression against Ukraine passes the one-year mark, it remains the focus of many debates throughout society, including science and research circles. Once such debate took the form of the recent conference "Gender, Civil Society, and Women's Movements in the Context of Russia's War on Ukraine", which was organised by Professor Dr Eva Maria Hinterhuber (Rhine-Waal University of Applied Sciences) and PD Professor Dr Gesine Fuchs (Lucerne University of Applied Sciences) at Rhine-Waal University of Applied Sciences and explored the war from a gender perspective.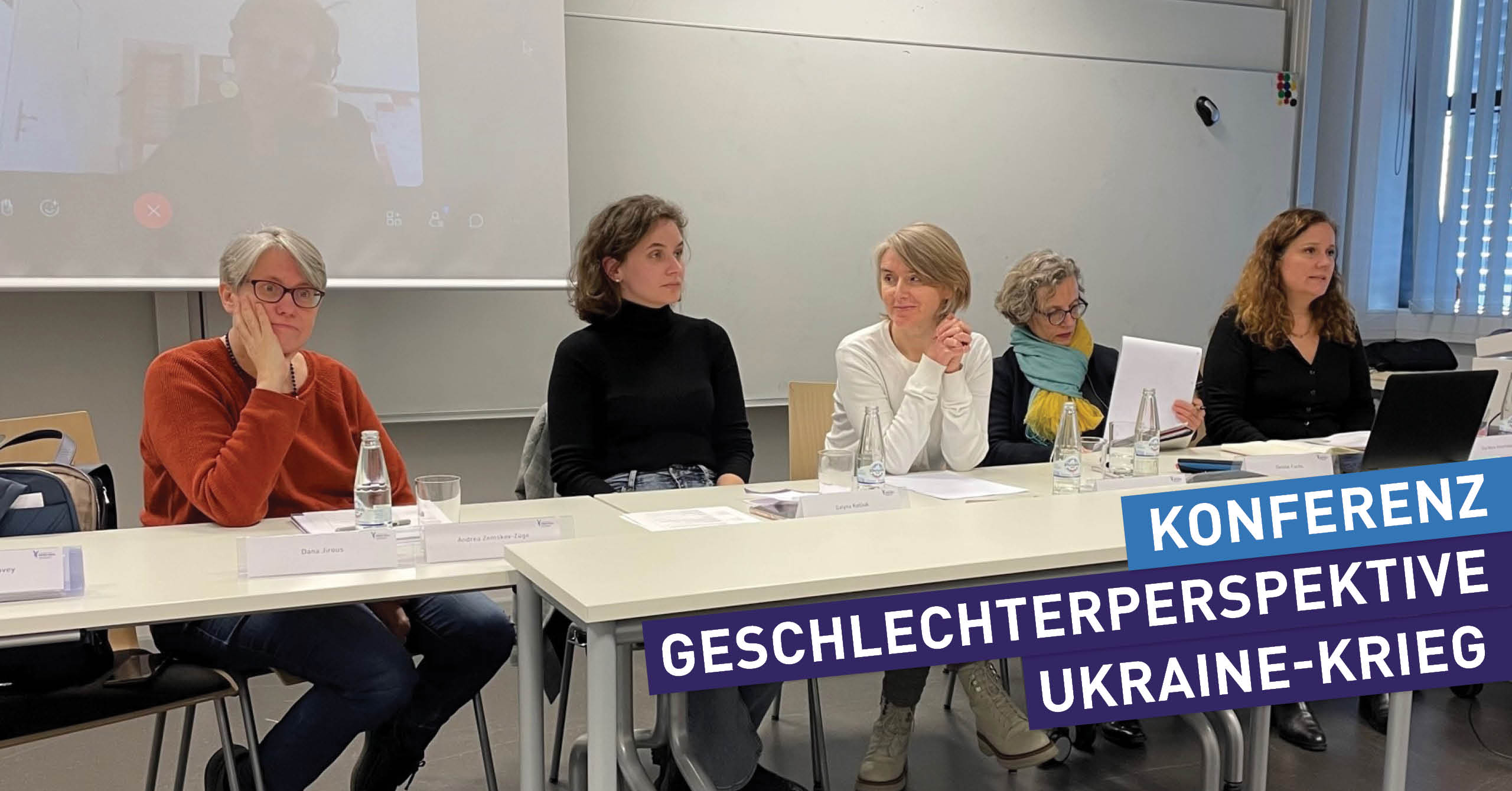 (From left to right): Dr Andrea Zemskov-Zug, Galyna Kotliuk M.A., Dr habil. Olena Strelnyk, PD Prof. Dr Gesine Fuchs and Prof. Dr Eva Maria Hinterhuber ©Marie Reintjes
Professor Dr Eva Maria Hinterhuber gave the opening address, stressing why it was important to analyse the war through a gender lens, as Putin's justifications for the invasion include an outspoken anti-LGBTIQ+ gender policy. The conference focused on the rights and perceptions of women and LGBTIQ+ people, as well as feminism in both Ukraine and Russia. The experts also explored the importance of maintaining a dialogue, even in wartime, and of a welcoming culture for Ukrainian refugees.
Dr habil. Olena Strelnyk from the Technical University of Munich gave the keynote, focusing on the effects of the war on both the civil and political rights of women. Strelnyk stressed that the war will reinforce traditional gender roles: women won't be armed to the same extent as men, as society deems it "primarily the fate of men to fight and die for their country". The war has also increased the scope of unpaid care work expected of women to compensate for large-scale interruptions to state-offered childcare services. In turn, this forces women to take on additional responsibilities such as emotionally shielding and educating children. The public perception of men is generally given more priority during wartime and, as a result, the categorisation of citizens into "good" and "bad" depends largely on how closely they are involved in the fighting. This also results in greater demands upon women to assume new roles and duties in politics or defence, as women are still severely underrepresented in all levels of parliament across Ukraine.
Yulia Gradskova of Södertörn University, Sweden, spoke about the history and position of women in Russia. She noted that Russia is currently pursuing a policy of Maternalism, an anti-feminist, starkly traditional approach based on a heterosexual and motherly definition of femininity. In short, women best serve the state by producing new workers. This approach emphasises traditional demands placed on women in past eras, such as birthing many children and assuming the role of caregiver for the family. At the same time, neither men nor the state are expected to provide any additional degrees of support to mothers. Under Maternalism, children are also to be raised "patriotically".
Ukrainian women are also frequent targets of websites and organised ad campaigns designed to spread "good and traditional Russian values" found in the Russkii Mir. Though these efforts are often spearheaded by religious organisations, state-supported secular organisations like the Russian women's organization Woman of Russia contribute as well. These ad campaigns usually dovetail with supporting Russia in its war, in particular through an added emphasis on honouring mothers (but especially mothers with many children). In Russia, state support for traditional families has ramped up since the war began: mothers with ten or more children received a bonus of ten million roubles (approx. 13,000 euros), and new holidays commemorating mothers and traditional families have also been introduced. Given the demographics in Russia, women have also been shouldered with the responsibility for ensuring the country's future capacity for both war and economy. The collective transformation in Russia is reminiscent of the lead up in the 1930s for the imperial wars of conquest in the 1940s. However, this propaganda campaign doesn't go unchecked: the feminist anti-war resistance movement stands in stark opposition with its own message from mothers: "We birth children, thus we are also responsible for their survival and well-being."
Dr Vanya Solovey from Berlin's Humboldt University and the organisation Transgender Europe (TGEU) is also researching the topic of feminists in Russia. Before the war, the feminist movement in Russia was a grassroots movement without central leadership or any real formalisation. Decolonisation had hardly been a topic of any critical discussion before the war, either. But when the war began, Russian feminists were among the first to demonstrate any open anti-war sentiment or solidarity with Ukraine. By now, anti-colonialism is now equated with anti-war resistance in general.
Unfortunately, anti-colonial rhetoric has also been incorporated into Russia's war propaganda as well: Russia presents itself as a victim of the collective West, which it accuses of imposing its own form of colonisation via sanctions. These sanctions are also framed as acts of violence and inhumanity. Alongside pro-Ukrainian feminists, there are also feminists in Russia who are outspoken in their support for the Russian government and even share its imperialist thinking: they regard Ukraine as an American-controlled puppet state and use this notion to justify attacks on opposing Ukrainian and Russian feminists. These radical Russian feminists, like the Russian government itself, deal in conspiracy theories as well as nationalist and transphobic propaganda. Nevertheless, their existence is also proof that the idea of anti-colonialism has taken root in Russia.
"The prevailing opinion today is that death can come at any time, so everyone should be able to love whomever they want" – Changing social views in Ukraine
In addition to the ongoing transformations in the roles, perceptions and propaganda involving women in Ukraine and Russia, the public perception of the LGBTIQ+ community in particular has been changing rapidly in Ukraine as well. According to Strelnyk, the social discussion on homosexuality and same-sex partnerships has undergone a significant shift compared to pre-war Ukraine. Acceptance for both has markedly increased not only in civil society, but also within the ranks of the military: "The prevailing opinion today is that death can come at any time, so everyone should be able to love whomever they want, and this right should be protected by law," said Strelnyk.
Strelnyk also stressed that the homophobic and anti-gender propaganda of Vladimir Putin, who described the war, among other things, as a fight against the "homosexual West", has made it clear that the war also represents an ideological struggle between Russia and Ukraine.
This view is shared by Galyna Kotliuk (M.A.) of the Heinrich Böll Foundation in Ukraine, who spoke on the history of Ukraine as a nation caught between Russian colonialism and Western Orientalism, and also discussed how the West percieves Ukraine. The West has often regarded Ukraine as a "weaker country" due to its history of subjugation and recent Soviet past. Russian colonialism has often portrayed Ukraine as a cheerful (with much singing and dancing), but ultimately uneducated part of Russia proper – an image that has, in many ways, also been adopted by the West. These preconceived notions also affect perceptions of Ukrainian women. But many Ukrainian women and members of the LGBTIQ+ community have dispelled and defied these notions, remaining in Ukraine and continuing their efforts in spite of the war. According to Kotluik, Russia's invasion of Ukraine is an anti-colonial war through which Ukraine wishes, for once and for all, to rid itself of Russian influence. She sees evidence of this in how the two countries have acted since the war began. On the one hand, the Ukrainian government passed legislation in December 2022 protecting the LBGTIQ+ community from defamation, while on the other hand Russia has clamped down on the rights of said community more and more. "Ukrainians want autonomy and to be free of Russia," summarises Kotliuk.
NATO and the EU have sided with Ukraine - What does this mean for peace?
Dr Dana Jirous and Dr Andrea Zemskov-Züge of OWEN e.V. (Berlin) then spoke about the importance of dialogue and empowerment through self-determination. The focus of their talk was on understanding why people think differently, how they think, and how mutual understanding can be found. They began with a look at Ukraine prior to 2022 to provide valuable pre-war context. In particular, they spoke about 2014, the year in which Russia launched its first attack on Ukraine by annexing Crimea and arming and fighting alongside separatists in the Donbas, as well as about the 2015 Minsk Agreement. They contrasted this with the situation in February 2022: The Minsk Agreement was effectively dead, Russia had just begun its invasion and the war was raging, and both NATO and the EU had sided with Ukraine. But what does this all mean for peace efforts? They noted that current peace efforts are complicated, in particular, by the fact that the war has called into question the legitimacy and relevance of cross-conflict contacts and cooperation between the warring parties: "with us or against us" has become the prevailing attitude. This attitude has also changed the perception of women, who are now either supporters of the war, supporters of the victims, or even victims themselves. In other words, their complex, individual needs are now overshadowed by collective identities and needs.
Why is it still worth it to keep pursuing dialogue? Jirous and Zemskov-Züge noted that the true value in dialogues between peoples with vastly different perspectives and positions is not in their potential to convince, but rather to understand the other side's true goals and motivations. Real relations can be built when differences are understood and recognised.
The speakers also explored the idea of empowerment, in particular the need for choices and options at different levels, such as the social and cultural levels. But empowerment doesn't only relate to a person's ability to exercise political influence. More, it's aimed at recapturing their interpretative power, their ability to take a stand, and at expanding their own scope for thought and action so they are in a position to make their own decisions.
The welcoming culture towards Ukrainian refugees
Professor Dr Gesine Fuchs (Lucerne University of Applied Sciences) then spoke about how Ukrainian refugees have been received by private individuals in Switzerland, which actually became a key element itself in the country's official policy towards refugees for the first time in recent history. Preliminary results of an ongoing research study show that social integration contains a great deal of potential for society. Research revealed that individuals' motivations for taking in refugees were often grounded in moral arguments and seen as acts of solidarity. Respondents' own family histories also had an effect on their decisions. At the time of the study, 50 percent of Ukrainian refugees had already moved out of their initial accommodations, and more than half into their own apartments. Almost two thirds of respondents reported positive experiences overall. In fact, many host families continue to keep in touch with their refugee guests or still support them actively.
Professor Dr Helma Lutz (Goethe University Frankfurt am Main) and Professor Dr Elisabeth Tuider (University of Kassel), however, noted differences in how refugees were welcomed differently depending on their origins and thus called for equal rights and reception for all refugees.
Going beyond the conference's main focus areas, Professor Dr Elizabeth A. Wood (M.I.T., USA) provided a detailed analysis of early warning signs for the war, particularly with regard to the gender system found in Putin's autocratic regime. Professor Dr Janet Elise Johnson (Brooklyn College of CUNY, USA) offered an outlook on how Putin's war against Ukraine can or should change gender studies programmes in Central and Eastern European countries as well as Eurasia. Professor Dr Manuela Scheuermann then concluded the second panel with insight into her ongoing research project on the impact of the war on feminist civil society organisations in Ukraine.
The first day of the conference ended with a student poster exhibition on the topic of "Civil Society Initiatives in the Context of Russia's War on Ukraine" with a focus on gender issues and conceptions for peace.
Overall, with its focus on gender and civil society, the conference turned a valuable spotlight on aspects of the Russian war against Ukraine that are often neglected in both public and scientific discourse. Beyond that, Eva Maria Hinterhuber and Gesine Fuchs also created a forum in which scientists and participants from various countries could express their (often different) perspectives and engage in a productive and fruitful exchange.