A Successful Partnership: 5-Euro Cultural Ticket for Students in Kleve
Rhine-Waal University of Applied Sciences (HSRW), the General Student Committee (AStA), Kleve and local independent artists have come together in a big way: Starting in winter semester 2022-2023, the majority of cultural events in Kleve will cost no more than 5 euros for HSRW students.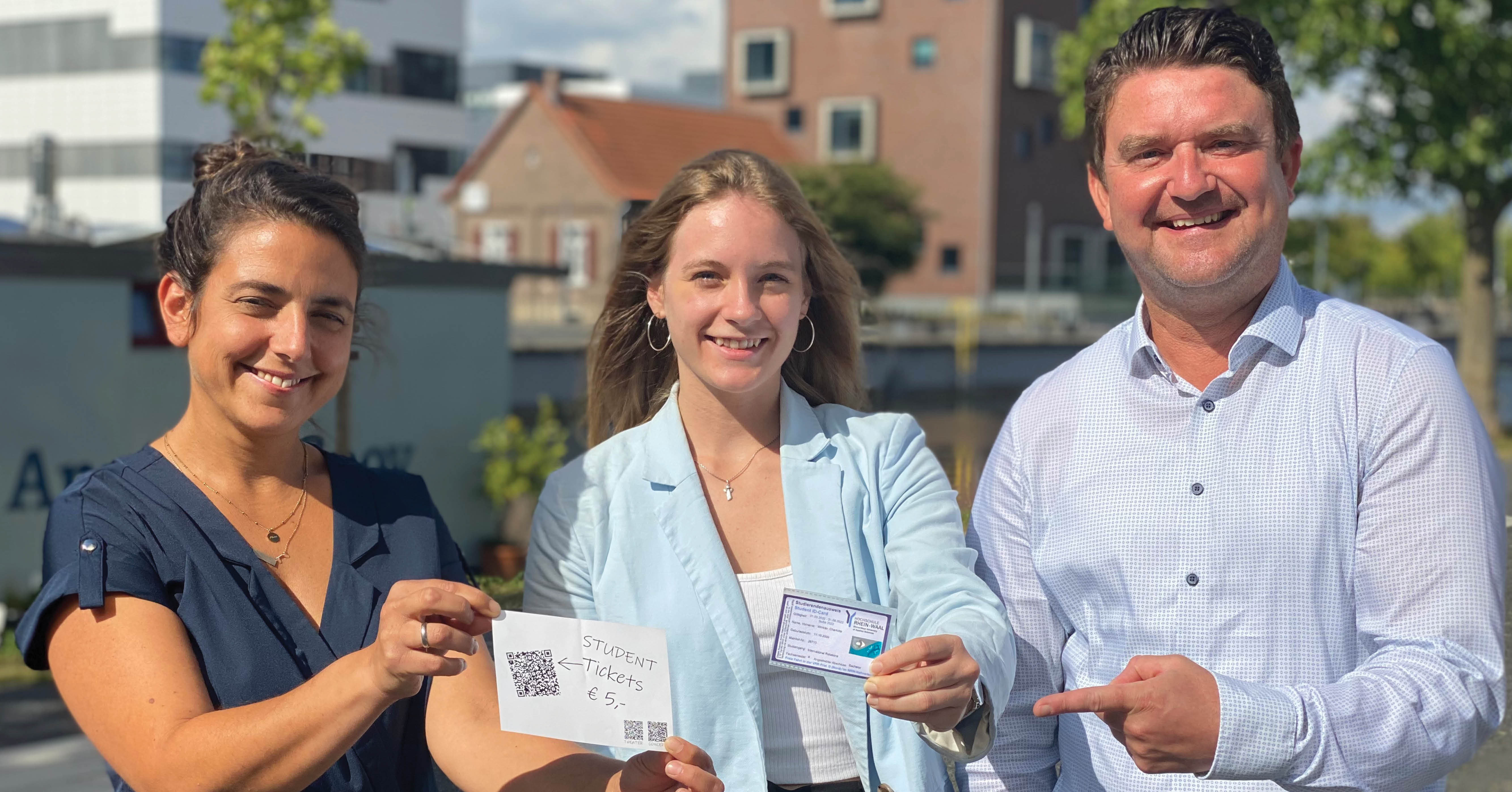 Photo: from left to right: Sara Khaffaf-Roenspieß (Head of the Student Advisory Service [ZSB], Welcome Centre, University Sports and Music), Charlotte Winkler (AStA Chair), Christian Schoofs (Head of Student Affairs) 
© Victoria Grimm / Rhine-Waal University of Applied Sciences
Cultural tickets for students are commonplace in large cities in Germany, but less so in smaller cities like Kleve, where students usually only enjoy a modest discount on ticket prices. In comparison, cultural tickets are very affordable and uncomplicated ways for students to access and experience local cultural scenes.
What makes Kleve's ticket particularly special is that the artists themselves are actively supporting our students: by agreeing to a ticket price of no more than 5 euros for all events, many already reduced prices for students have been lowered even further. Dr Oliver Locker-Grütjen, president of Rhine-Waal University of Applied Sciences, thanked the artists, the city of Kleve, the initiators and organisers behind the ticket at HSRW and AStA, all of whom made this special offer for students possible in the first place.
Sara Khaffaf-Roenspieß, head of the Student Advisory Service (ZSB), Welcome Centre, University Sports and Music, is very excited about the new 5-euro cultural ticket: "Given their often tight budgets, this ticket offers a fantastic opportunity for many students to participate in and enjoy the local cultural scene in Kleve. This is especially true for a university like HSRW with over 50% of students from abroad," she noted.
Christian Schoofs, head of the Department of Student Affairs, agrees: "From our experiences we know that cultural offers are unbelievably important to the successful integration of new students. They're anchoring points for students from other cultures and countries, and let them see and experience our region's cultural diversity first-hand. We're also confident that the 5-euro cultural ticket will help local art and culture reach a much wider audience than before."
Indeed, HSRW students have shown over the years that they are very interested in live music, poetry slams and other cultural events. "Some students aren't really even aware of what Kleve has to offer. We hope that more affordable access will motivate many to explore the city's cultural scene more," said Charlotte Winkler, chairperson for AStA.
Dr Oliver Locker-Grütjen added to this thought, noting that "experiencing Kleve's art and cultural scene will encourage students to engage with and share their own cultural backgrounds too, thus contributing to more intercultural and international exchange in the region."
All students in Kleve are eligible for the 5-euro cultural ticket from 19 September 2022 onwards. Simply show your student ID when purchasing an event ticket from a participating organiser and the ticket price will be 5 euros or less.
Participating organisers:
Kleve city:
Haus Koeckoeck
Museum Kurhaus
Stadthalle Kleve (theater and concerts)
Independent artists and organisers:
Theater im Fluss
Radhaus Kleve
VHS Kleve
Klangfabrik
Klever Jazzfreunde
Gitarreninitiative Niederrhein
Meyerhof Konzerte
Culucu
Kulturbüro Niederrhein
Aussichtsturm Kleve
Cinque
Tichelpark Cinemas
Berufskolleg Kleve
Other artists and cultural organisations can and are encouraged to join this growing list of artists and organisers at any time.