"Best Idea Cup 2020" - Rhine-Waal University of Applied Sciences honours innovative ideas
The Best Idea Cup was the first event in the scope of the "StartGlocal - Global Spirit for Local Start-ups" project organized by the Center for Research, Innovation and Transfer at Rhine-Waal University. Due to the corona pandemic, this year's ideas competition took place online.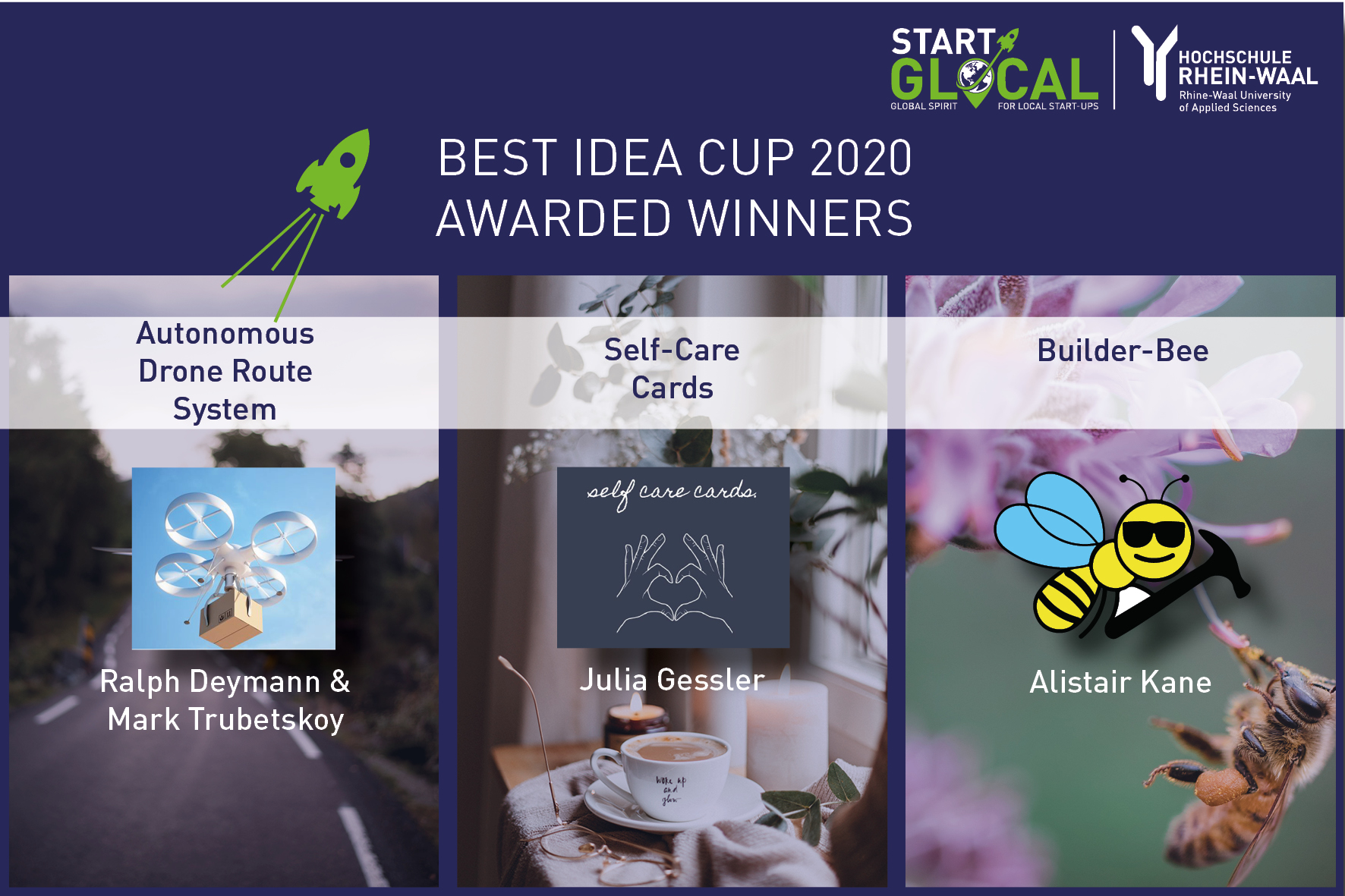 56 business ideas were submitted by students from all faculties. Eight of them got the chance to present their idea in an online pitch. Now a jury of StartGlocal project members have awarded the best three with a prize money of 500 euros, a 6-month start-up coaching and a certificate.
"We are enthusiastic about the ideas and the creativity of the students. Everything ranging from technical ideas and social innovations to projects related to sustainability was covered. It was not easy to choose a Top 3 from the large selection," reports Dr. Gerhard Heusipp, jury member and head of the Center for Research, Innovation and Transfer.
The following ideas were awarded:
Self-Care Cards (Julia Gessler, Environment and Energy, B.Sc.)
The self-Care Cards collection offers different psychological techniques to reduce anxiety and stress. The cards can be carried in pockets and handbags to serve as a daily companion. Due to their attractive design they are also welcome gifts.
Autonomous Drone Route System (Mark Trubetskoy and Ralph Deymann, Electrical and Electronics Engineering, B.Sc.)
The Autonomous Drone Route System aims at developing safe and autonomous flight paths for drones in urban areas for commercial and governmental use.
Builder Bee (Alistair Kane, International Business and Social Sciences, B.A.)
The Bee Box is a new and modern kind of bee hotel. Through a transparent pane, interested people can watch and learn about the activities of the "Builder Bees".
This year again, the prize money was sponsored by the different sponsering associations of Rhine-Waal University: Förderverein Rhein-Waal - Förderverein Hochschule Rhein-Waal e.V., Förderverein Campus Cleve e.V. and Förderverein Campus Camp-Lintfort e.V. The university would like to thank its sponsors and wishes the award-winning students much success in the further development of their ideas.
The project "StartGlocal - Global Spirit for Local Start-ups" is funded by the Federal Ministry of Economics and Energy and the European Social Fund within the EXIST program. For further information please contact startglocal@hochschule-rhein-waal.de.