Another successful cooperation
Students present project results at ALTANA in Wesel
Due to the successful cooperation with students of Rhine-Waal University (Faculty of Communication and Environment) in 2018, the ALTANA Group had again invited to cooperate in an interdisciplinary project. In January, a project team consisting of  "Mobility and Logistics", "International Business Administration", "Environment and Energy" as well as "Communication and Information Engineering" students, presented the results of their project on the topic "Green Logistics - Reducing ALTANA's CO2 Footprint" to the ALTANA Group, represented by Dr. Flüggen (Head of Purchasing) and Dr. Kirchner (Head of Environment, Health and Safety).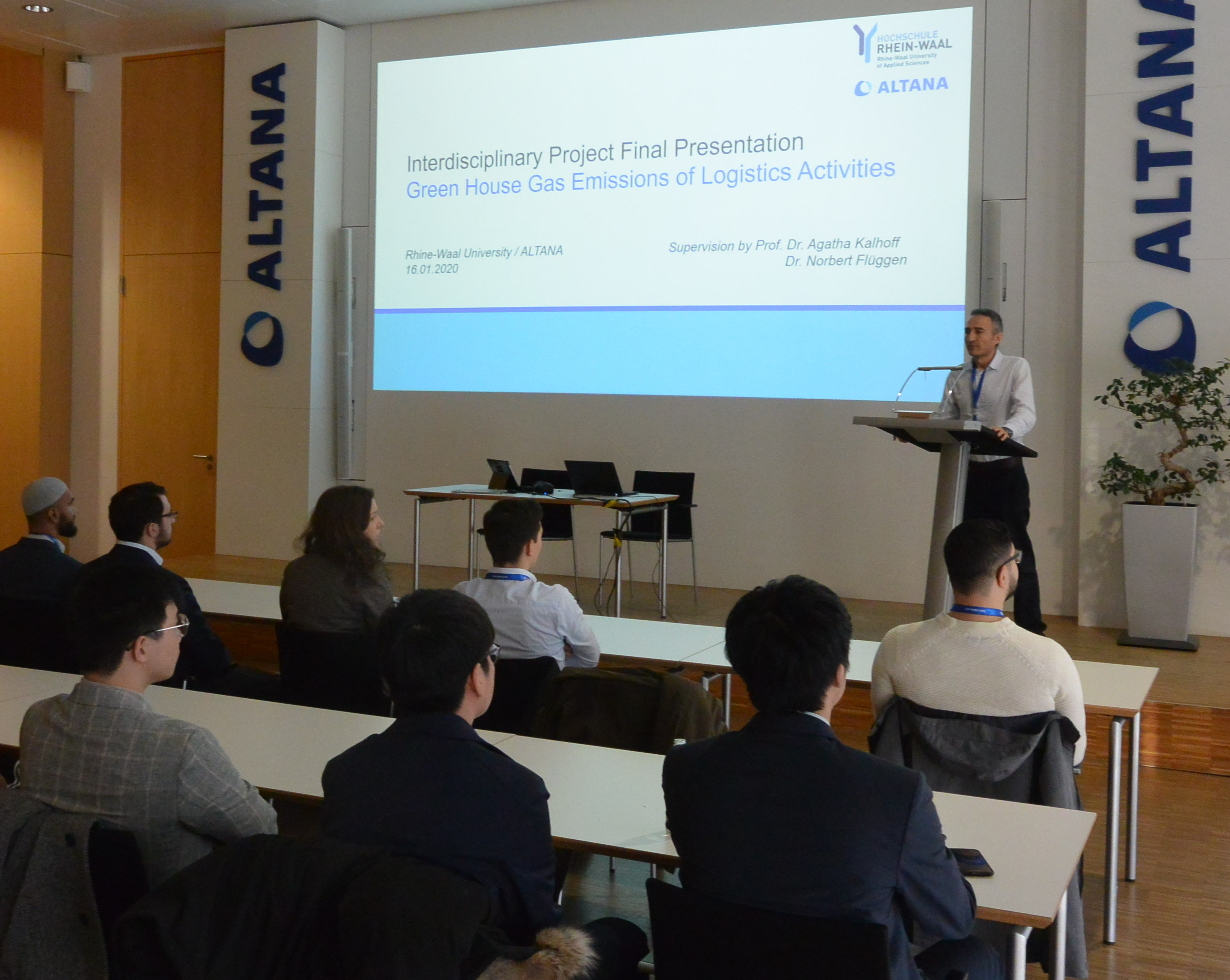 Supervised by Professor Dr Kalhoff, Dr Seidel (external) and Mr. Kieroth, the students developed a comprehensive concept to calculate the CO2 emissions of ALTANA's outbound logistics and to identify possibilities to reduce CO2 consumption. The project team was actively supported by representatives of the company. Due to the regular exchange, the students gained a comprehensive insight into the different business areas of the international Wesel-based specialty chemicals company with 47 production sites and 60 service and research laboratory locations worldwide. Thanks to the intensive exchange with the company, the student team was able to develop tailor-made solutions for CO2 reduction by optimizing transport routes, using environmentally friendly vehicles and applying intelligent technologies.
Following the successful presentation of the project, there was an opportunity to discuss the results over lunch. 
The ALTANA Group intends to continue its cooperation with the university in the future. On the one hand, certain aspects of the existing project are to be further developed, on the other hand, completely new possibilities for future cooperation are to be identified.