Speed Dating: Companies Meet Students is a regular event held at Rhine-Waal University of Applied Sciences with the goal of connecting students to representatives of companies and institutions. In quick, 10-minute 'speed dates', students meet with recruiters and representatives of regional companies to get a feel for each other without the stresses of a standard job interview. The event is organised by the supporter association Friends of Rhine-Waal University of Applied Sciences in conjunction with Rhine-Waal University of Applied Sciences.
The next Speed Dating: Companies Meet Students takes place on November 25 2020 (3p.m. - 6p.m.) as a virtual event.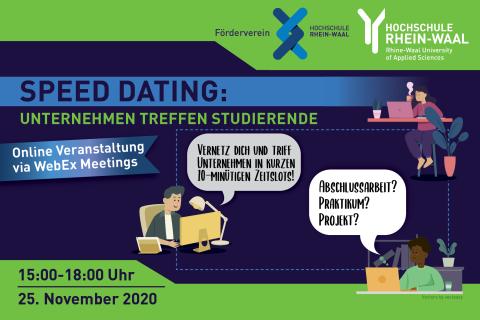 Benefits for companies
Get to know a diverse crowd of potential applicants* within a very short time.
Gather a solid first impression of applicants' qualifications and personalities.
Have an opportunity to advertise current vacancies for students to see.
Save a considerable amount of time and resources compared to the traditional application process.
Promote your company and brand to young demographics.
Registration for companies
If you would like to register, please contact the `Friends of Rhine-Waal University of Applied Sciences´ (info@foerderverein-hrw.de).
Benefits for students
Start building or expanding your professional network.
Gather valuable interview experience and practice new approaches.
Enjoy a good chance of connecting with a company interested in giving you an internship, collaborating with you on a project or a thesis, or hiring you after graduation.
Browse companies' posted vacancies during the event.
 
How to register (students)
At the beginning of the winter semester 2020/21 you will receive an email with the attached registration form, information about the companies scheduled to appear and the application deadlines.
Select max. three companies that fit your qualifications and interests and rank them by preference on your registration form.
This year the registration takes places via Moodle. 
Prepare yourself for the event! Take advantage of the Career Service programme to improve your application documents and interview strategies. The up-to-date programme can be found on our website. 
Please note that depending on demand, not all students will be able to meet with their preferred companies. Time slots are booked according to preference and on a first come, first served basis, so register early!
Contact: career-service@hochschule-rhein-waal.de
 
* Potential applicants are students from any four faculties at Rhine-Waal University of Applied Sciences. When students register, they are required to choose companies they would like to meet with. Timeslots are booked according to these preferences.