Ask away! – Science will answer
Have you ever wondered about a day in the life of a university researcher? Have you ever wanted to ask scientific researchers something, but you've never had the chance? "Frag doch mal nach! – Wissenschaft gibt Antwort" or "Ask away! – Science will answer" gives you that opportunity you've been looking for.
In a live interview you can pose your questions to a rotating group of researchers from Rhine-Waal University of Applied Sciences. As a way for you to get to know each researcher beforehand, a short interview with him or her will be published in a newspaper and on our homepage.
The live interview is open to the public and people of all ages. Use the chance to pick their brains and ask all those questions you've been keeping bottled up over the years. Why? What are the reasons? Can you break this down in simpler terms? – We look forward to your questions and an evening of enjoyable and interesting interaction between the audience and the researcher being interviewed.
Program:
Wednesday, November 18 2020 from 4.30 pm to 5 pm
| | |
| --- | --- |
| Verena Schürmann | |
Johannes Pfeifer

 
Scientific staff in the area psychology at the faculty of communication and environment
You can find the short interview in the Download section. The video can be seen here: https://youtu.be/s4H4R3B-n7k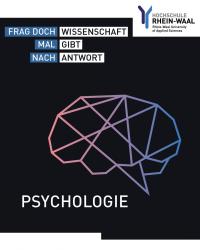 How you can take part:
Please note that the event will be held in German. Participation is free of charge and registration is not required. You can join 15 minutes before the event starts.
1. Click the following link:
2. Please enter your name und your email address
3. Enter - if necessary - the event passwort: FragNach
4. Click either on
   - "Per Browser beitreten" or
   - "Jetzt beitreten" - for this you'll need the installation of the Webex App
Course of the event:
After a short welcome by the moderators, you will have half an hour to ask your questions to the scientists. You can do this either by using the chat or by raising your hand.
Under the following link you will find a similar format, which may serve as a suggestion for your own questions: Ask a diplomat