Fashion Revolution Week 2020
Who makes our clothes and under what conditions?
In the Fashion Revolution Week, which starts today and lasts until Sunday, 26.04.2020, we will present in five articles the conditions under which most of our clothes are produced and what fair and sustainable alternatives there are.
The rights of workers are often massively violated in the textile industry: This begins with poor pay, forcing workers to work multiple shifts to earn a living. It continues with insufficient protection against toxic chemicals, such as those used in dyeing, and a lack of safety measures to protect workers from dangerous injuries. Many workers died in accidents, such as the factory fire in Karachi in 2012 or the collapse of the Rana Plaza factory in Dhaka on 24 April 2013, which is commemorated by Fashion Revolution Week.
One cause of the poor working conditions is the extreme competition in the clothing industry, which means that clothing is mainly produced in countries with low wages and inadequate occupational safety. But not buying clothes is not a solution either.
What alternatives are available, which clothing seals indicate fair working conditions, and how Corona affects workers in the garment industry, will be presented in the upcoming days on the homepage of the Fairtrade University Rhein-Waal. And we commemorate the 1134 workers who died in Rana Plaza.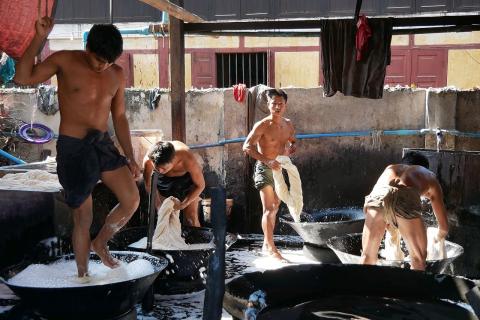 Picture Copyright: Mosmas GNU 1.2. Reinigung von Baumwolle vor dem Färben in einer Manufaktur in Amarapura, Region Mandalay, Myanmar (mons.wikimedia.org/w/index.php?curid=56421912) Abgerufen von https://upload.wikimedia.org/wikipedia/commons/9/94/Cotton_washing_Myanm...
Second-hand clothing 
Especially among students, thrift shopping and close swaps are cheap and sustainable options to declutter your wardrobe or get the next individual item. Buying second-hand is one of the most sustainable ways to shop!
But where can you sell/buy or swap your clothes?
There are many websites, we will present three to you, please mind that it depends on personal experience.
ubup
It is Germany's biggest second hand online shop, there is a vast amount on offered items, some brands, differing in style and condition. Because of the huge amount of clothes, it is a little bit difficult looking through everything, but the filter list is helpful. A nice aspect for this side is that you get a 20€ discount on your first order.
rebelle
It is the "sister" to ubup, here you can order high class fashion second hand, the layout of the website is really nice, unfortunately are the prices according to the brands still pretty high
Kleiderkreisel
An App and a Website, especially used among the youth to swap and sell clothes. While the trading process at ubup and rebelle is coordinated via the website, with Kleiderkreisel the contact is made directly between seller and buyer. There you have to look out for scams.
So, have fun scrolling through the offerings, but also look again at your clothes in your wardrobe, do you need more items? Should you declutter before making the next purchase, could you maybe fix or upcycle your favorite shirt before you throw it away?
If you want to refresh your wardrobe, here are three things you can perfectly connect at the moment: ordering the latest fashion save and easy online from home and getting the desired products delivered to your doorstep. Many shops also offer CO2-neutral shipping. While ordering you should listen to some of the podcasts about fashion revolution, they have a critical view on the industry and supply you with sustainable and fairtrade options for your consumption behavior and ideas for the purchase. Additionally, check out the awesome channel called "fashion revolution", there you get background information, impressive stories of people fighting for a change in fashion and last but not least the #haulternative.
Stay safe, listen to and watch something entertaining what matters and refresh your wardrobe.
Podcast:
https://open.spotify.com/show/1KGwFhmRu97J05JfagJdUY?si=M9vaAvHBRaCvLv73...
https://www.fairtrade-deutschland.de/service/newsroom/podcasts.html
You Tube Channel:
https://www.youtube.com/channel/UC0JS74vyisaHej_xEq_zZ1w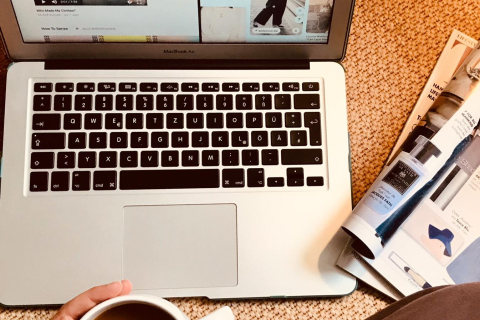 Textile seals
Do you know which certifications are available for fabrics and garments?
A lot! There are so many textile seals that hardly anyone has a clue anymore: Which of them is really non-toxic and the production is environmentally friendly and socially acceptable?
To help you find your way through this jungle of information, "Siegelklarheit.de" has created an overview in which several labels and information are published. The evaluation is based on the minimum requirements of the German government for social and environmental labels.
We will briefly introduce four well-known seals to you.
Green Button: The Green Button is a state seal for sustainable textiles. In its current introductory phase, the seal does not cover the entire supply chain yet. The production stages "cutting and sewing" and "bleaching and dyeing" are being tested. In the coming years, the Green Button will be extended to the steps "weaving and spinning" and "cotton cultivation / fibre production".
Fairtrade - Foundation for Cotton: This seal covers the phase of raw material production (e.g. cultivation of natural fibres and production of synthetic fibres). It stands for socially acceptable living and working conditions in cotton production and is aimed particularly at small farmers. The licence fees and a share of the fair trade surcharge are used for projects in the producing countries. The label also sets requirements for environmentally friendly cotton cultivation. According to Siegelklarheit.de, it has particularly high standards in the areas of credibility and social compatibility. The minimum requirements for environmental friendliness are not completely fulfilled.
Fair Wear Foundation (FWF): This seal covers the phase of production (e.g. spinning, weaving and knitting, sewing, making-up and finishing) and, according to Siegelklarheit.de, it has particularly high requirements in the areas of credibility and social compatibility. The minimum requirements for environmental friendliness are not completely fulfilled. The aim is to improve working conditions in companies in the textile industry worldwide. The focus is on companies where textiles are sewn. Members are about 80 textile companies representing about 120 brands.
GOTS (Global Organic Textile Standard): This seal covers raw material production, manufacture/production/further processing, transport, trade and the phase of use by the owner. The aim of the seal is to establish a worldwide uniform, controllable, social and ecological standard that covers the entire production chain of textiles and makes it traceable. The focus is on the use of chemicals during production. According to Siegelklarheit.de, the seal has particularly high requirements in terms of credibility, environmental friendliness and all minimum requirements in terms of social compatibility.
Many people would like to shop more sustainably. Before you buy something new, you should make sure whether something new is needed at all. And if so, maybe you will get new trousers or other clothes second hand. In general, textiles should be valued more. The search for fair and sustainably produced clothing can make shopping easier at special sites such as memo.de, hessnatur.com, avocadostore.de or greenaity.de. Zalando has a predefined field "sustainability" in its product search for clothing. Shop certified and sustainable, it's not hard at all!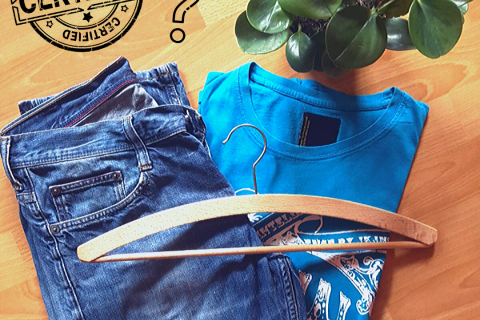 How Coronavirus affects the fashion industry
The Covid19 pandemic changes our everyday life, e.g. we limit our direct contact with other people, schools are closed and there are no face-to-face meetings at universities. Due to the closure of shops in numerous European countries, the demand for goods, e.g. clothing, has also collapsed, which has a massive impact on the clothing industry, among other things. For example, according to the Bangladesh Garment Manufacturers and Exporters Association (BGMEA), orders worth 81 billion dollars were cancelled in Bangladesh, affecting over 1000 factories.
Especially in countries where the textile industry is the main financial income, the outbreak of corona virus is therefore also a serious economic threat to workers, industry and the country as a whole.
In Bangladesh, for example, most workers in the garment industry have been laid off due to the corona pandemic, without receiving any compensation payments from the companies or the state. As the garment industry is one of the largest employers in Bangladesh, the social impact is dramatic.
If the demand for clothing in European countries rises again, the major fashion brands will place orders again. But possibly on less favourable terms than before, as the crisis has not improved the bargaining position of governments, companies and workers in Bangladesh and other countries that depend on the garment industry.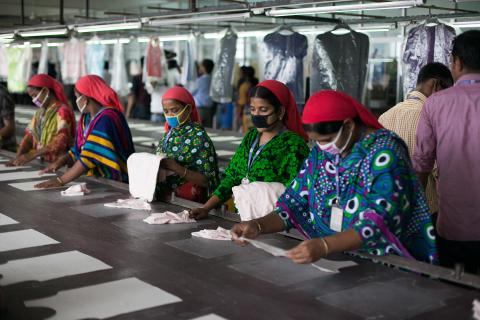 Creator: NurPhoto
Credit: NurPhoto via Getty Images
Copyright: Mehedi Hasan/NurPhoto
In memory of Rana Plaza 
Rana Plaza, a commercial building located in Dhaka's outskirt Savar, Bangladesh, is the symbol of the Fashion Revolution Week. On 24 April 2013 the eight-story building collapsed. The building contained clothing factories making clothes for some of the biggest global fashion brands, a bank, apartments and several shops. Including rescue workers, 1,134 were killed and nearly 2600 workers were injured. Most of the 5,000 workers inside were young women. Survivors told stories of how they knew the building was hazardous and showing cracks in the days leading up to the collapse. The retails shops and banks on the ground floor shut down their operations, but the demand of global brands and an insatiable fashion industry called garment workers back inside.
That's when Fashion Revolution was born. According to the Global Slavery Index (2018), the garment industry is the second most predominant sector driving modern slavery.
Fashion Revolution wants to change this. We must ask #WhoMadeMyClothes? and demand that the people who make our clothes are visible and their human rights are respected.
With a online flea market within this week we want to raise awareness for this topic. Buying second-hand is the most sustainable way to shop!