At Rhine-Waal University of Applied Sciences, students from over 100 different nations join to expand their knowled­ge and gain new experiences. Our "Freshtival" is a great chance for you to become part of this vast community. Meet new people from all sorts of cultural backgrounds and feel what it's like to be united in diversity.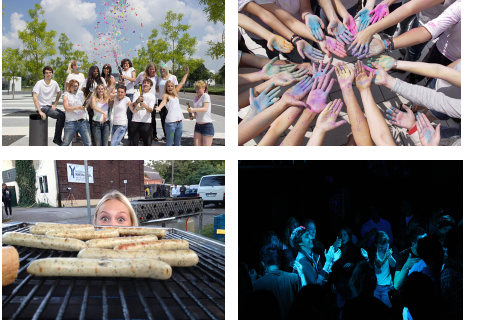 Are you ready to make new friends, start your studies and maybe have the best time of your life? We, your Tutors, will be happy to accompany you right from the very start. During Freshtival Week we will try to answer all your ques­tions regarding your studies, introduce you to various offers at the FreshtivalBazaar and introduce you to the best bars doing a Pub Crawl. At the CountryBBQ you can enjoy the relaxed atmosphere, ask us whatever comes to your mind and get helpful advice. Whether you're wondering about scholarships, accommodation or the library card, we ensure that during Freshtival Week you will be provided with ever­ything you need to get started. The week will finish off with a great SilentParty you should not miss!
Don't forget to take a look at our FreshtivalNews, which is an ideal guide for your first semester. Soak up the unique atmosphere of being united in diversity! Join Freshtival!
Tammy Schmack
Organisation Freshtival
Joana Böhm
Lea Boettcher
Tutors, Freshtival Organisation